Falling Into The Bible, Part 5: The Sea of Galilee
Eva Marie Everson
Wednesday, October 23, 2002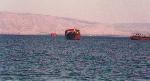 During the fourth watch of the night Jesus went out to them, walking on the lake. When the disciples saw him walking on the lake, they were terrified. "It's a ghost," they said, and cried out in fear. But Jesus immediately said to them: "Take courage! It is I. Don't be afraid." "Lord, if it's you," Peter replied, "tell me to come to you on the water." "Come," he said. Then Peter got down out of the boat, walked on the water and came toward Jesus. But when he saw the wind, he was afraid and, beginning to sink, cried out, "Lord, save me!" Immediately Jesus reached out his hand and caught him. "You of little faith," he said, "why did you doubt?" And when they climbed into the boat, the wind died down. Then those who were in the boat worshiped him, saying, "Truly you are the Son of God."  ~~Matthew 14:22-33
Falling In
I wish I could find a word to describe the color of the Sea of Galilee, but I cannot. It is a color of blue that's more brilliant than royal blue and more heraldic than azure blue.
It was with great anticipation that our tour group boarded a "Jesus Boat" that took us out into the middle of the Sea of Galilee, toward the (as team member Rebekah called them) blushing Golan Heights. We leaned over the bow and looked into the water, excited to know that in this very place the disciples had fished, the Lord had preached, and slept, and walked. As Rebekah began to tell the story of Jesus' trek on water, the wind began to whip just a bit and the ripples of waves began to crest enough to cause our tour guide, Miriam, to pretend speaking into a phone and say, "Cue the waves." What a moment!
So much can be learned just from the three short stories of what took place at the Sea of Galilee mentioned above. When Jesus called the first four disciples, He was in affect saying to them, "I will take what you do now and show you how you can use it for the Kingdom of God." These men understood the dynamic of fishing. Taking those dynamics, Jesus introduced the dynamics of ministry to them.
I am fascinated by the fact that these four men left immediately to follow Jesus. It occurs to me that He would have recently come out of 40 days and nights in the desert with His Father, would have just been victorious in "The Temptation," and would have then been tended by angels.
Can you imagine the glory that must have surrounded Him? No wonder they "jumped ship and ran." But I also wonder what Zebedee must have thought. Can't you hear him calling after his sons, "Have you lost your minds? Did someone ring the dinner bell? Get back in that boat, boys, and fish!" Yet, in spite of what and who they would have to leave behind, they followed Christ.
I am equally touched by the second story. In life and in ministry we endure storms and stormy situations that seem hopeless. Yet while we panic, Jesus sleeps, undisturbed by the circumstance. All it took was calling out to Him, a few words from Him, and the storm was over. Amazingly, the disciples seemed both stunned and unsure as to what had happened and who He was.
Recently on Spiritual Life
Have something to say about this article? Leave your comment via Facebook below!
advertise with us
Example: "Gen 1:1" "John 3" "Moses" "trust"
Advanced Search
Listen to Your Favorite Pastors