Falling Into The Bible: The Church of the Primacy of Peter
Eva Marie Everson
Wednesday, November 20, 2002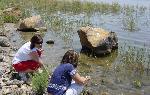 Peter replied, "Even if all fall away on account of you, I never will."
"I tell you the truth," Jesus answered, "this very night, before the rooster crows, you will disown me three times."
But Peter declared, "Even if I have to die with you, I will never disown you." (Excerpt, Matthew 26: 31-35)
The other disciples agreed with Peter, but only Peter was destined to deny.  That denial came after his disobedience to what Jesus suggested just after His arrest. "If you are looking for me, then let these men go," Jesus said to the soldiers in John 18:8. In other words, take a clue, guys. Leave and leave now!
But Peter followed Jesus to the house of the high priest, hanging out in the courtyard, warming himself by a fire. Within about a two hour period, as Jesus was being interrogated, Peter denied being one of His disciples not once, not twice, but as Jesus said, three times.
He must have had a clear shot of the Messiah standing before his accusers, because Luke tells us that when the rooster crowed, "Jesus turned and looked straight at Peter." (Luke 22:61)
Can you imagine what emotional messages must have been expressed with their eyes? Jesus' might have read:  "Peter, my beloved. Please believe what I say to you."
Peter's might have read:  "My sweet Lord. How I have disgraced you!"
After Jesus' resurrection, an angel of the Lord told the women who stood in the empty tomb to go tell the disciples -- specifically Peter -- that Jesus had risen from the dead.
And for a while, the Savior and his disciples were together again, with Jesus appearing in various places to many people. But with each moment, Peter must have felt awful, and probably wrestled with his own calling, because according to John 21, he decided to go back to fishing, taking Thomas, Nathanael, James, John, and two other disciples with him into the Sea of Galilee.
But they caught nothing.
The scripture reads like this: Early in the morning, Jesus stood on the shore, but the disciples did not realize that it was Jesus. He called out to them, "Friends, haven't you any fish?" "No," they answered. He said, "Throw your net on the right side of the boat and you will find some."
When they did, they were unable to haul the net in because of the large number of fish. Then the disciple whom Jesus loved said to Peter, "It is the Lord!" As soon as Simon Peter heard him say, "It is the Lord," he wrapped his outer garment around him (for he had taken it off) and jumped into the water. The other disciples followed in the boat, towing the net full of fish, for they were not far from shore, about a hundred yards.
Recently on Spiritual Life
Have something to say about this article? Leave your comment via Facebook below!
advertise with us
Example: "Gen 1:1" "John 3" "Moses" "trust"
Advanced Search
Listen to Your Favorite Pastors