Falling Into The Bible: The Church of the Primacy of Peter
Eva Marie Everson
Wednesday, November 20, 2002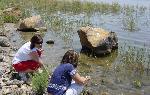 When they landed, they saw a fire of burning coals there with fish on it, and some bread. Jesus said to them, "Bring some of the fish you have just caught."
Simon Peter climbed aboard and dragged the net ashore. It was full of large fish, 153, but even with so many the net was not torn. Jesus said to them, "Come and have breakfast." None of the disciples dared ask him, "Who are you?" They knew it was the Lord. (John 21)
Falling In
As I stood back several yards from the shoreline, the warm breeze slipping through my hair, I placed my hands on my hips and imagined Jesus as He stood there, watching the helpless, hapless disciples attempting to go backward rather than forward in their lives and calling.   
"Peter, do you love me more than these?"  Jesus asked Peter after they'd finished eating, meaning "do you love me more than the fish?" The word Jesus used was "agapao" and is meant to ask, "Peter, does this satisfy you or do I?"
In essence, Peter answered, "You're my friend."
A second time, Jesus asked, "Do you agapao me?" but without asking for a comparison of affection. Again Peter answered, "You're my friend." One more time, a third time, Jesus asked the question, this time saying, "Peter, do you love me as a friend?" to which Peter replied, "Lord, you know all things; you know I love you."
Such grace. Such restoration. And, according to tradition, it happened in this very spot, in this place where a church has been built around a giant rock. As I stepped up to the shoreline, and placed my palm against the clear blue water, I thought back to a moment many years ago when I said to the Lord, "I yield all of me to all of You. I want everything you have to give." Such grace. Such restoration. 
Peter left the sea to give the first sermon, to tell the Gospel story to innumerable men and women, and to die without fear as a martyr upon a Roman cross. I left with a handful of seashells, and a call to come back to the United States to tell everyone who would listen what I learned when I fell into the Bible.
Final Note
"If you go to Israel once, you will want to go back again and again." I'd heard these words as many times as I'd heard, "You're going where?" I would nod and say, "That's what they tell me." But inside I was thinking: No, no. If I go once, I'll be satisfied.
Allow me to conclude these articles with a final note. One trip to Israel will never ever be enough. If I were to be allowed the privilege of an annual pilgrimage to the Holy Land, still it wouldn't be enough. 
Recently on Spiritual Life
Have something to say about this article? Leave your comment via Facebook below!
advertise with us
Example: "Gen 1:1" "John 3" "Moses" "trust"
Advanced Search
Listen to Your Favorite Pastors