Find Your Spiritual Resting Place
Stephen McGarvey, Executive Editor
Wednesday, October 04, 2006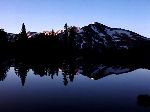 Often the business of day-to-day life prevents us from considering the big picture. In her recent book Resting Place, author Jane Rubietta reminds us how important it is to take time for spiritual reflection. Vacations and church retreats are important, but personal spiritual retreats can help you recover from your frantic life and reflect on God's gracious will.
---
Crosswalk.com: Why do you think it is so important for believers to consider personal spiritual retreats?
Jane Rubietta: All of my writing comes from what I am trying to do in my own life. When I first started, I was a young pastor's wife and I really hit the bottom, I wiped out, I realized I was so messed up and I realized I needed to get help. I ended up in a 12-step group, just trying to get some healing, but I had to go outside the church to do that. It's not like I left the church, but as a pastor's wife, I'm not standing there with a badge on saying, "Look at me, I'm really messed up." I began hearing other women saying things like, "I've got a problem with anger." "Wow, so do I!" "Why is no one talking about this stuff?" I realized, all those issues were separating us from God rather than becoming tools that would take us to God. One of the things that really saved me when I had personal struggles was when I really started giving myself permission to take care of myself.
CW: How did you apply this revelation to your own life specifically?
Usually, that includes getting away every month for an entire or a day and a night just to be with the Lord. I wasn't bringing leftover to-do lists. I wasn't doing errands on the way. My whole point was just go and be with God. It was just salvation for me, and I ended up moving into a deeper place spiritually.
That's when I started writing, when I realized that God was converting my problems into ways to meet with Him. So I started telling women (that time I wrote I was only speaking to women's groups) here's one of those things you can do, here are some ways you can take care of yourself as well. My first book was called Quiet Places: A Woman's Guide to Personal Retreat, and then I wrote Resting Place: A Personal Guide to Spiritual Retreats for women. It's not an exegesis of Psalm 23, it's sort of the framework; the Lord is my shepherd, He wants to restore my soul, He wants to lead me beside still waters, why don't I do that? Do I really believe this, and what's keeping me from it?
I look at the issues that sort of stop us from getting closer to God. I look at our anger, our pressures… but I also examine the things that come out of that: a renewed sense of creativity, a deeper awareness that He's really the love of my life… this is something that will move me out of my addictions, this is the love that will move me, this is the love I've been looking for all along.
CW: When you talk about personal retreats, you mean something very different from what a Christian would think of as a typical retreat?
Rubietta: Yeah, those are the typical "let's-plan-the-life-out-of-the-people-who-go" gatherings. Let's give them all the activities and all the workshops and all the electives and all the breakout sessions, and all the keynotes and then they're talking to their roommates and eating and playing games in the lobby. Then you go home and you have a sheaf of notes that you don't know what to do with. So eventually you throw them away, and that's the end of that. I'm not sure how transformational those retreats are. I think they are important for community, and I speak at a lot of retreats. But I really try to get the leaders to scale down and not over-program the people so that they really are having a place to process what God wants to do in their hearts.
Recently on Spiritual Life
Have something to say about this article? Leave your comment via Facebook below!
advertise with us
Example: "Gen 1:1" "John 3" "Moses" "trust"
Advanced Search
Listen to Your Favorite Pastors