Find Your Spiritual Resting Place
Stephen McGarvey, Executive Editor
Wednesday, October 04, 2006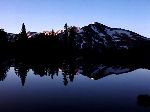 So yes, it is a different thing. I am talking about a retreat where you set aside time for reflection on the deep questions of life: it's just you and God. What does God want to do with my life? What does my soul need right now? [Christians are] not good at listening for that.
CW: What sort of setting do you think people should seek out for a personal retreat?
Rubietta: It's certainly a personal decision. There are monasteries and retreat houses all over North America. A journalist from Germany told me "we have monasteries all over [Europe] and there's a new movement among Protestants to go to monasteries for personal retreat." You can go online and find them. Retreats International has a lot of interesting personal retreats. They're very affordable. One of the things I like about going into a place that is set aside for personal retreat is that there are often people who are living there committed to pray for you while you're there and it's just really a wonderful thing.
One of my favorite things is to find a state park that has an inn, and even if you don't spend the night, if they have an inn, there's a place where you can sit down and relax, sit on the porch or hike; a state park is good. You can go to a library as long as nobody knows you're there and you're not going to end up in a big conversation. I like a place where you can actually rest, so it's nice to go a place where you can just get a room, and some of the retreat centers will give you a room for a day. But if one of your goals is rest, I just think it's nice to have a place where you can actually physically lay down because there's something freeing about not having to have an alarm and just think, "I'm going to let God wake me up and see what that's like." When was the last time you did that?
CW: So what do you think people who are going on a personal retreat should seek from the Lord?
Rubietta: Really just God's heart. I just see… I have children, and I just remember so many times my husband would come in tired from work and he would just lay down on the floor, and one of the kids would just come and just lay down on top of him and just put their head on his chest. That's what I think of as the essence of a personal retreat. I give ideas in the book for each chapter, but it's really just a place to hear God's heart again, and to rest in Him.
CW: In your book, you talk about examining your conscience as you go off on retreat. Why do you think that is important?
Rubietta: Well, the Psalmist says, "search me oh God and know my heart, try me and know my anxious ways, see if there's any hurtful way in me, and lead me in the way that's everlasting."
The closing part of every chapter is the examination of conscience or consciousness; typically you see that at end of the day. You invite God to just show you: "where did I leave Your presence today, where did I miss You or let go of You, where did I, where did I hurt you." I think we lose track of that. Part of our ability to rest comes from just staying connected throughout the day. So figuring out where you weren't connected (either you broke it by sin or you broke it by forgetfulness), helps you think about how to move back into that place of grace because it's not standing there in the way anymore. Even if we don't notice sin, our hearts know.
Recently on Spiritual Life
Have something to say about this article? Leave your comment via Facebook below!
advertise with us
Example: "Gen 1:1" "John 3" "Moses" "trust"
Advanced Search
Listen to Your Favorite Pastors