Finding Rest
Jim Tonkowich
Monday, September 25, 2006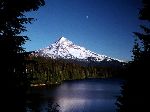 Well, it's been and gone: summer vacation, that annual bacchanal of travel, motels, fast food, sunburn, insect bites, and souvenirs.
Some headed for the Virgin Islands or Spain, Nags Head or Maine, Catalina or Pittsburgh (because that's where your Mom lives). Whether you went rock climbing, rode roller coasters, toured, or sat on the beach pretending to read, most vacationers are after the same thing: rest.
Did you rest? Do you ever rest - deep down rest? Or is your life lived in a frenzy of activity and sleeplessness?
Before going on vacation one year, I read Psalms 116. Verse 7 caught my eye: 
Be at rest once more, O my soul
for the LORD has been good to you.
Note that the psalmist is not talking about his body resting, but his soul. It's one thing for my body to rest by sleeping in. It's something else to have a soul at rest. And note too that the rest comes and goes. He had rest once and wants it back.
Psalms 131 pictures the resting soul as a child snuggled up and napping against her mother's breast. Matthew 11:28-30 describes it as the feeling when a heavy burden is removed.
We don't come to enjoy that rest via some 5-step program. If we take the psalmist as a guide, we find that he doesn't do anything to find rest. Instead, by faith, he believes three things about God and, in faith, he responds.
1. My Soul Can Be at Rest Because the Lord Hears Me (verses 1-2)
On most vacations, we drive up to Maine, do our thing, and drive home. But the last vacation included family responsibilities along the way that expanded as we got closer to departure. At one point I started complaining to my wife. She said it wouldn't be all that bad. I knew that. She said we'd have a great time anyway. I knew that. She said I was being selfish. I knew that, too. Then she said, "But I understand how you feel. I hear what you're saying." I needed to know that. Someone who loves me hears me.
God loves us and He hears us. Yet sometimes when I listen to myself and others pray, I have the image of a bunch of hobos fresh up from the railroad track at the servants' entrance to a great mansion. Heads bowed, hats in hand, wanting to be heard, but… well, you never know when you're a beggar.
Then I picture a child racing past the hobos, across the lawn, yanking open the front door, and yelling, "Daddy, Daddy, Daddy!" And out comes the master of the house, Daddy, who's all ears for his darling. That's a biblical picture of how our heavenly Father hears us.
Those who put their faith in Jesus Christ are children of God — adopted daughters and sons. When we call, "Abba" — the Hebrew word for "Papa" — Abba hears us. We can pour out our restless hearts to Him knowing that we're heard. Faith that He hears me brings my soul rest.
2. My Soul Can Be at Rest Because the Lord Rescues Me (verses 3-11)
Many of us waste a lot of time fighting with reality. We fantasize about a life that's free of problems and pain, stress and suffering — a life that, in this world, never can or will be. Life is filled with problems — many of our own making. We need to be rescued.
In Psalm 116:3, death, the grave, trouble, and sorrow are pictured as aggressive and clutching. The chaos of life is all around us and we feel under attack. Ask Christians who are being persecuted in Sudan, North Korea, or Saudi Arabia. Ask the families in inner city neighborhoods who have lost teens in the crossfire of gang wars. Ask the parent whose little bundle of joy is diagnosed with leukemia. And really we don't need to ask anyone. We already know.
Recently on Spiritual Life
Have something to say about this article? Leave your comment via Facebook below!
advertise with us
Example: "Gen 1:1" "John 3" "Moses" "trust"
Advanced Search
Listen to Your Favorite Pastors