Fly on the Wall: A Discussion about Authentic Transformation
Compiled by Gary Moon, for Conversations Journal
Thursday, September 02, 2004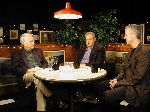 Have you ever wondered what it would have been like to have been a fly on the wall during a conversation among members of the Inklings group– C. S. Lewis, J. R. R. Tolkien, Charles Williams, etc.? While we can't help you with that, we can let you in on part of a four-hour, unscripted conversation among Dallas Willard (who is sometimes called "America's C. S. Lewis"), Larry Crabb (who wishes he had written the Lord of the Rings trilogy), and John Ortberg (who is already more famous than Charles Williams).
This Inklings group was recently together for the production of a video curriculum based on Dallas' most recent book, Renovation of the Heart . As part of the taping, a soul talk conversation was arranged. What follows are excerpts from that conversation.
Ortberg: Dallas, you've said that spiritual formation is a universal process – everybody is getting spiritually formed whether he wants to or not. How important is it for people to recognize what is forming them spiritually?
Willard: Well, I think if you can get them to start by realizing they are being formed spiritually, that would be very important because they might be able to do something about it. The question is always what kind of a person I am becoming. What are my experiences doing for me, and do I want to go in that direction? I think that's the primary question, and once you ask it, you had better know what's forming you; and it might be the things you think least of.
Ortberg: I think that at a church, people think of spiritual formation as something that happens when they sit in a service or go to a Sunday school class. But one of the challenges is, most people don't think about their spirits being formed while they are reading a newspaper or talking to somebody at work or going to see a movie.
Crabb: And people don't want to think that way. I find the whole topic frightening.
Ortberg: Because?
Crabb: Well, when you talk about being honest, to begin with, it's frightening to be honest about where I am. Just speaking about me personally, I've been saved now for about 50 years. I got saved when I was eight years old. I had a counselor tell a bunch of boys, eight-year-old kids, "Now look in this campfire. Ten-foot blazes." He said, "Guys, you've got a choice to make. Trust in Jesus or burn forever." That was a no-brainer to me. It's been 50 years since that happened. And when I get really honest about where I am, there are times I wonder if I have really changed in 50 years. Why can I still feel resentment? Why do I still treat my wife in ways I'm ashamed of? I wonder as I think about the whole topic of spiritual formation, how many people are like me and don't want to ask, "Where am I spiritually formed?" They don't want to get into this issue because it feels despairing. Can I really, really change? Is that really a possibility? Who do I know that makes my tongue hang out with a holy envy? Can I really be like that person? Wow! It's a very frightening topic, really.
Recently on Spiritual Life
Have something to say about this article? Leave your comment via Facebook below!
advertise with us
Example: "Gen 1:1" "John 3" "Moses" "trust"
Advanced Search
Listen to Your Favorite Pastors