Fly on the Wall: A Discussion about Authentic Transformation
Compiled by Gary Moon, for Conversations Journal
Thursday, September 02, 2004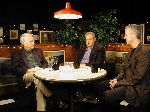 Willard: That's the time to bring these together and welcome those thoughts. I know that when I've done that, very often, the combination of the word of God, prayer meditation, with those thoughts, rather than pushing them away [changes them]. They become different. For example, I am able to become compassionate toward the person that I was justifiably angry at....
Spiritual Formation and Our Feelings
Willard: This helps a lot and brings together that other aspect of the mind, which is emotion. Because when we bring the word of God as a living substance into us, it really does change us. My experience has been at the level of feeling. I still remember teaching a woman once; as we drove along, I was going over Romans 8 and suddenly it dawned on me what this all meant. It was like the car was filled by glory. It was so profound. I really was never the same after that in thinking about the love of God and being loved by God. I trace that back to the content of the thoughts. That's what made the connection. When we are dealing with cases like you described [when previously discussing the role of thoughts], that emotions, loaded with a bunch of images, and how foolish he made me look, and so on, I have to bring that over into the context of the content of the Word of God. And see myself to see myself differently.
Crabb: That word "content" you used, let me just put in a little first grade sentence. We're not going to be able to chew on Scripture unless we have some familiarity with it. I think it's important in our small groups and so forth to just learn the word of God. I knew about Jephtha because as a kid, I was dragged to more churches than I ever wanted to go to, and there's just a value in knowing the Scripture. Even if it feels dry for the time, it's like a first-year medical student learning the bones and the chemicals. I want to just make a plug for Bible knowledge. This emotional thing–how thoughts and emotions are interrelated–again, it was very recently I was realizing that my attitude toward my wife had to do with my feeling somewhat justified in distancing myself from her. And feeling that if she didn't respond a little differently I was really handling myself quite honorably. But then I noticed the pain in her face and knew this wasn't right. I pondered the obvious Ephesians 5 passage about loving her the way He loves me. And I realized if He loves me the way [in the same way] I'm treating my wife, I'm in bad shape. And there was a level of brokenness that changed my feelings toward my wife. I was broken. I was repentant. I went and told her that. I felt warm toward her. I went and told her that, and that one of the biggest privileges I had in life was to have her as a wife. I felt warm; it was wonderful. I'd like to think it will sustain itself for the rest of my life.
Willard: Well, one of the good things about these emotions is that they spread over the life, don't they?
Crabb: They do.
Willard: When I'm in union with my wife at this deep level, I'm in union with the world. And, conversely, I remember how not being in union with my wife would affect my children.
Recently on Spiritual Life
Have something to say about this article? Leave your comment via Facebook below!
advertise with us
Example: "Gen 1:1" "John 3" "Moses" "trust"
Advanced Search
Listen to Your Favorite Pastors