From the Study: The Need
Michael Card
Wednesday, June 16, 2004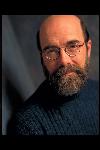 It was then that mankind began the endless string of sad laments which always contained somewhere an idea like; "Why do You hide Your face?" or perhaps, "Look upon me again, O Lord," or simply, "Where are You?" The psalmist put into words for us this lamentable loneliness that is both the source of so much pain and at the same time the reason for our greatest hope.

We were made for God, and so we ache deep inside for Him. All our other emotional aches are connected to this primordial emptiness by slender threads of nameless sorrows.  Nothing else will ever, could ever possibly satisfy this deep need.
"He has also set eternity in the hearts of men..." says Solomon. (Eccl. 3:11) This eternal vacuum is the holy place God created in us to inhabit. You were born with it. You can never escape it. You and I cried out in the delivery room when our eyes first squinted through the bright hospital lights, and we will, each of us, end life with a sigh or perhaps a groan that will echo this same struggle. The source of our greatest pain but, in the same instant, our greatest reason to hope.
"Now we see but a poor reflection as in a mirror; then we shall see face to face. Now I know in part; then I shall know fully, even as I am fully known." Cor. 13:12
That death bed sigh will not be our final word. If we have come to know Him, who all mankind aches to know, the eyes that close in death will open to Life. In that resurrection instant, which Jesus refers to as "waking up," we will find ourselves in the presence of the One who, though we did not feel it, had known us all along. "Even as I am fully known," says Paul. In it not as if we will be ushered into His presence to give God a chance to somehow get to know us. He has known us from the beginning.
The world's fallenness and ours have placed a wall between us and an awareness of His knowing, but nevertheless we are, you are, I am, in the sacrament of this present moment known. When the lie of aloneness whispers itself to you, answer back, "I am known." When the temptation to numb or distract yourself from the untruth of

isolation, assert you faith by responding, "Never will He leave me, never will He forsake me."  

From the Study is a monthly syndicated column by Michael Card. For more information about Michael Card, please visit www.michaelcard.com.
Recently on Spiritual Life
Have something to say about this article? Leave your comment via Facebook below!
advertise with us
Example: "Gen 1:1" "John 3" "Moses" "trust"
Advanced Search
Listen to Your Favorite Pastors