Getting Acquainted With Peter, 3: Declarations of Faith
Eva Marie Everson, Contributing Writer
Wednesday, April 14, 2004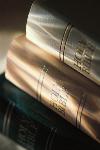 I don't recall exactly what I said, but whatever it was, it must have been a humdinger. There were approximately 20 women sitting around a small room full of tables. I was at the front of the room, teaching from the Word of God, specifically, Mary's Song as it is recorded in Luke. Some tiny fleck of revelation stirred in my soul then forced itself out of my mouth. The women dropped their jaws; one woman pulled her reading glasses off and dropped them on her Bible, which was spread open on the table before her. "Wow!" she mouthed.
I felt a rush of excitement. There is nothing in the world like seeing the faces of God's children when truth is revealed, especially when the truth is coming out of your own mouth.
I wonder if Peter felt like this when he made his two outstanding declarations of faith. With all the things he often said that caused the Lord to wonder about this fisherman He'd chosen, these two lines must have made His heart soar.
I know they do mine.
You Are The Christ
Jesus' ministry is well underway. He has preached all around Galilee. Fed thousands of people with tiny morsels of food. He has healed the sick, calmed a storm, and called out demons, forcing them into a herd of pigs destined for a long jump over a high cliff. He has prepared His disciples for ministry, even sending them out to minister in His name. He has cursed Korazin, Bethsaida, and Capernaum and then gone head to head with the religious powers that be. He had taught in parables, walked on water, and heard of the death of his cousin, John the Baptist.
Surely tired, when Jesus and the Twelve came to Caesarea Philippi, He stopped to pray. (Luke 9:18)
Caesarea Philippi was a city located about 25 miles north of the Sea of Galilee and at the base of the "Gray Haired Mountain," Mt. Hermon, which rises 9200 magnificent feet and is the highest point inside the country of Israel. In spite of the city's splendor, it was a place of ancient worship of Pan, the half-man half-goat god of fright who played a flute and demanded sacrifice. Later, overtaken by Rome and its influences, the city was dedicated to the glory of Rome - renamed for Tiberius Caesar and Herod's son, Philip - and became a place where men would cry, "Caesar is Lord."
But, not this day. No. This day would a new declaration would be made...and would be recorded for the ages.
When Jesus came to the region of Caesarea Philippi, he asked his disciples, "Who do people say the Son of Man is?"
They replied, "Some say John the Baptist; others say Elijah; and still others, Jeremiah or one of the prophets."
"But what about you?" he asked. "Who do you say I am?"
Simon Peter answered, "You are the Christ, the Son of the living God."  - Matthew 16: 13b-16
It seems that Peter had not a moment's hesitation. You are the One we have waited for since the beginning of time, he is in essence saying to Jesus. You are Messiah.
In his exposition of the Bible, John Gill (1697-1771) wrote that in this short statement of faith Peter said volumes. ...that there is a God, that there is but one God; that he is the living God, has life in himself, is the fountain of life to others, and by this is distinguishable from the idols of the Gentiles: that Jesus is the Christ, the Christ of God, the true Messiah, that was promised by God, prophesied of by all the prophets, from the beginning of the world, and expected by the people of God: a character that includes all his offices, of prophet, priest, and king, to which he is anointed by God; and that this Messiah was not a mere man, but a divine person, the Son of God; not by creation, as angels and men are, nor by adoption, as saints, nor by office, as magistrates, but by nature, being his own Son, his proper Son, the only begotten of the Father, of the same nature with him, being one with him, and equal to him.
Recently on Spiritual Life
Have something to say about this article? Leave your comment via Facebook below!
advertise with us
Example: "Gen 1:1" "John 3" "Moses" "trust"
Advanced Search
Listen to Your Favorite Pastors