Getting Acquainted With Peter, 7: Bringing in the Harvest
Eva Marie Everson, Contributing Writer
Wednesday, June 09, 2004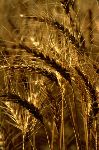 And what about for Peter and the others? Take away their Jesus...take away the fanfare every time they came to town...cause them to suffer for their faith...then would they love God so much?

Sift You As Wheat

The purpose of sifting wheat consisted of tossing it about, in the end leaving the purest form of the grain while removing the foreign matter. To Satan, the foreign matter was the presence of God. What was natural to Peter, as a man, was the sinful nature...as it is with any of us. Peter had yet to learn how to, by the power of the Holy Spirit, shake off the old man and put on the new.

But, not only Peter; the word "you" that our Messiah used was not singular. Rather, it was plural. Satan had asked permission to sift all of the disciples as though they were wheat...to attempt to take them from a position of knowing what they believed and why they believed it to not truly knowing at all.

In the movie, The Ghost and Mrs. Muir, the passing of time is indicated by the waves beating upon the shore, breaking down a wooden sign that at one time proudly displayed a little girl's name but over the years was barely readable. The Disciples confidently claimed the deity of Jesus while sitting with Him in the Upper Room, dining on the Seder meal. But, Satan thought, enough waves beating against the shores of their faith, and they would wear down.

But I Have Prayed For You

The "you" is singular. Jesus now directs His statements back to Peter.

Can you imagine this? All those times the "boys" saw their Rabbi and friend slipping away to pray to His Father in Heaven...all those times...and Peter can now know for certain that at least part of those conversations were about him. What joy might have filled Peter's heart if he concentrated on the latter part of what Jesus had just said rather than the former. "Satan has asked," was sure to put a ripple of fear into any man's heart. But, what joy that Jesus - the King of kings and the Lord of lords - has taken time to actually speak on Peter's behalf.

Who knows man better than the One who created him? Jesus knows every thought, motive, sinew and cell of any man, especially those He has called for His own. Jesus alone truly knows what is needed for us to reach perfection. He alone knows the strength we need to survive the attacks of our enemy. Remember, we  are the victims of Satan's attacks. Alone, we cannot survive. With the power of the Spirit of God, we not only can, we will.

That Your Faith May Not Fail

Jesus is saying to Peter what we all need to hear: Satan will attack. He will. We are, none of us, immune from his attacks. And, in fact, you should be more concerned if he doesn't attack that when he does. What Jesus is praying for is not that Satan won't attack, but that when he does Peter's faith will be able to withstand the onslaught.

And When You Have Turned Back

In His sovereignty, Jesus is telling Peter that he will fall away, that the sun will slip below the horizon and darkness will seem to envelop his life...but! Just as Jesus had said, "But I have prayed for you...." That word "but" means everything. Yes, Peter, you will struggle against the night but the sun will come up again (as the Son rises!) and you will find your way back to the Truth.

Strengthen Your Brothers

Why would Jesus say this? Because as the brothers would also doubt, they would end up needed what God would teach Peter through these shadowy moments.

The Disciples had argued over who was the greatest and, in many ways, Jesus had let them know that with "greatness" comes "service." Peter would indeed strengthen the brothers - not only those sitting about the table with him that evening, but even us today as we read his story or meditate on his letters. Peter would also be called to "tend the lambs," "shepherd the sheep," and "tend the sheep." (John 21:15-17)

Recently on Spiritual Life
Have something to say about this article? Leave your comment via Facebook below!
advertise with us
Example: "Gen 1:1" "John 3" "Moses" "trust"
Advanced Search
Listen to Your Favorite Pastors