Getting Out the Christian Vote: Why Your Choice Matters
Dr. James Dobson, Focus on the Family
Tuesday, October 19, 2004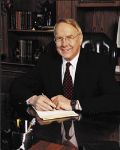 If you're among those eligible voters who haven't decided whether you'll even bother to make your voice heard on Election Day, I want to urge you — in the strongest possible terms to rethink your position!


In a sense, every election is a "crossroads," especially when it involves the selection of national leadership. Whether directly or indirectly, our President and congressmen will be making life and death decisions on our behalf over the next four years. These decisions will continue to have an impact long after the individuals have left office.

In the next four years, for example, the President may make from one to three appointments to the U.S. Supreme Court. Given the unprecedented power of the court today, the selection of those justices could have a profound affect on the country for decades.


Other critical issues will be decided in the next quadrennial, including how the war on terror will be fought; whether helpless, frozen embryos will be sacrificed in the name of medical research; whether the "right" to kill preborn children will continue unabated; and whether marriage will continue to be defined in law as the sacred union of one man and one woman. Without a doubt, you and I and millions of other Christians have a vested interest in how these and other questions will be answered.


Last July, we witnessed a dramatic example of this ability of our elected officials to either strengthen or weaken the institution of the family. It occurred when 50 senators filibustered the Federal Marriage Amendment, not even letting it come up for a vote. They "stiff armed" the tens of thousands of citizens who called to insist that they defend the family. These senators turned a deaf ear to those pleas, obviously caring more about staying in office than doing what is right.
Thus, the homosexual lobby scored yet another victory. Ironically, the same senators who complained that it was a waste of time to debate an amendment to protect the family found the time a month earlier to pass "hate-crimes" legislation when no one was watching. Every Democrat and 18 Republicans voted for the provision supported by Senator Ted Kennedy and his friends in the homosexual community. Cleverly attached to the National Defense Authorization Act, in a time of war, this legislation threatens religious liberty in this country.
This disregard for traditional values should not surprise us. Since 1969 when the Congress began taxing married couples at a higher rate than those who were (and are) living together without marrying, the family has been ignored, wounded and weakened by those we have sent to represent us.
It comes down to this: Our senators have left the historic institution of marriage at the mercy of unelected, unaccountable, arrogant judges, who have already signaled their intention to create same-sex marriages, just as four ultra-liberal judges on the Massachusetts Supreme Judicial Court did in May.
There are important issues being played out in this year's state and local elections, too. As many as 11 states will have an opportunity to protect the institution of marriage with state constitutional amendments. Oregon is the state that most concerns us, because activists have targeted that election as the one they have the best chance to win. Floridians will decide whether or not to pass a measure requiring parental notification in the event of a minor seeking an abortion.  California voters will be asked to fund embryonic stem cell research with a three billion dollar bond issue.  Unbelievably, this is occurring in a state that is almost bankrupt. Alaskan citizens face an initiative to decriminalize marijuana— and California, Nebraska, Oklahoma and Washington citizens will all vote on proposed referendums to expand gambling in one form or the other.
Recently on Spiritual Life
Have something to say about this article? Leave your comment via Facebook below!
advertise with us
Example: "Gen 1:1" "John 3" "Moses" "trust"
Advanced Search
Listen to Your Favorite Pastors