Getting Out the Christian Vote: Why Your Choice Matters
Dr. James Dobson, Focus on the Family
Tuesday, October 19, 2004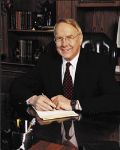 That is why I have made such a significant investment of time and energy in recent weeks to encourage my readers and listeners to stay informed, to register and then to "get out the vote." Over the past two months, I have traveled extensively and made numerous public appearances, including six "Stand for the Family" rallies in North Carolina, Louisiana and South Dakota. I have never involved myself to this extent in the buildup to a national election, and quite frankly, I do not relish the idea of taking on such a vocal and public role.

However, the issues we care about this year are simply too pressing and too serious to allow me to sit on the sidelines. Christians can and should make a difference in the outcome of the election, and I hope that this year, in particular, they will turn out in droves at the polls. After all, voting is not only a privilege, but a responsibility to God, to our country, to our children and ourselves.

It is also our responsibility to get ourselves properly informed before casting a ballot. You will need to invest sufficient time in researching the various candidates and in deciding which individuals' views and beliefs most closely align with your own. This is no small task, but it is well worth the investment. If you will stay up-to-date on the issues and then simply vote your conscience on Election Day, you can have the satisfaction of knowing that you have done your part to influence our country for righteousness. Two good places to start would be Focus on the Family's "CitizenLink" Web site (citizenlink.org) or our flagship site, www.family.org. Both of these resources contain articles, contact information, links and a wealth of additional material that will help you keep abreast of the latest developments as Election Day nears.

May I suggest that you not only vote on November 2, but try to take one or more people with you? You might even provide transportation. I like the slogan, "Won by One," which refers to this effort to bring someone who might not otherwise take the time to do their duty. Likewise, you might offer to baby-sit to facilitate participation. If everyone did this, the results might be very different, and the Congress could be transformed.

Finally, of course, as a person of faith, your trip to the polls must be preceded by a time of earnest prayer. Pray that the Lord would grant you wisdom as you prepare to cast your vote. Pray that His will would be accomplished in the election and that the leaders of His choosing would win their respective races.

And pray that those who hold positions of authority over us, both now and after the election, would draw near to God and seek His face as they embrace the numerous responsibilities placed upon them. Some who are familiar with the concept of fasting might want to consider doing that as we approach the election. Wouldn't it be wonderful if a million Christians were giving up the pleasure of eating for a day, asking for the Lord's guidance on Election Day?

 If you're eligible to vote, please don't abdicate your responsibility to have a say in the outcome of this important decision.

Reprinted from Dr. Dobson's October 2004 newsletter with permission of Focus on the Family. All rights reserved.

Recently on Spiritual Life
Have something to say about this article? Leave your comment via Facebook below!
advertise with us
Example: "Gen 1:1" "John 3" "Moses" "trust"
Advanced Search
Listen to Your Favorite Pastors