God and the Tsunami: Theology in the Headlines
Albert Mohler, President, Southern Baptist Theological Seminary
Monday, January 03, 2005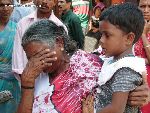 The challenge to the Christian faith is clear, even as it is often crudely put forth by secular critics. If God is both omnipotent and benevolent, how can disasters like this happen? This question was stated concisely by playwright Archibald MacLeish in his Pulitzer-prize winning play, J.B. Through his character Nickles, MacLeish poses the theological challenge: "If God is God, He is not good; if God is good, He is not God."

An example of how not to give a Christian answer was provided by the Archbishop of Canterbury, Rowan Williams. Writing in The Sunday Telegraph, Williams said this: "Every single random, accidental death is something that should upset a faith bound up with comfort and ready answers. Faced with the paralyzing magnitude of a disaster like this, we naturally feel more deeply outraged - and also more deeply helpless. We can't see how this is going to be dealt with, we can't see how to make it better. We know, with a rather sick feeling, that we shall have to go on facing it and we can't make it go away or make ourselves feel good." The newspaper headlined the archbishop's column, "Of Course This Makes Us Doubt God's Existence." After the article was published, the archbishop protested the headline, and his spokesman claimed that the paper's characterization of the archbishop's article was "a misrepresentation of the archbishop's views."
In response, the paper acknowledged that while it may have misrepresented the archbishop's argument, nevertheless, "he himself must accept much of the blame." Surely speaking for the paper's readers as well as its editors, the paper observed, "His prose is so obscure, his thought processes so hard to follow, that his message is often unclear." In exasperation, the paper simply concluded, "If Dr. Williams hopes to teach and inspire his flock, he really must learn to express himself more clearly. Otherwise he will be forever doomed to be the victim of his own erudition."
In Australia, much closer to the tragedy, the Anglican Dean of Sydney, Phillip Jensen, explained that natural disasters are a part of God's warning that judgment is coming. Jensen was right of course, as Jesus Himself pointed to natural disasters as a warning to human beings of our own mortality and of the coming judgment of God. Nevertheless, this was too much for more liberal churchmen in Australia. Neil Brown, Dean of Saint Mary's Cathedral [Catholic] described Jensen's comments as "a rather horrible belief when you begin to think about it."
Well, that's orthodox Christian theology, when you think about it.  Jesus clearly warned His disciples that famines and earthquakes, along with wars and other ominous phenomena, would be the "birth pangs" of coming tribulation and judgment [Matthew 24:7-8].
This is no time for theological hand-wringing and evasion. A great tragedy like this is often the catalyst for bad theology offered as soothing counsel from religious professionals.
A faithful Christian response will affirm the true character and power of God--His omnipotence and His benevolence. God is in control of the entire universe, and there is not even a single atom outside His sovereignty. And God's goodness and love are beyond question. The Bible leaves no room for equivocation on either truth.
We must speak where the Bible speaks, and be silent where the Scripture is silent. Christians must avoid offering explanations when God has not revealed an explanation. Finally, Christians must respond to a crisis like this by weeping with those who weep, by praying with fervent faithfulness, by offering concrete assistance in Christ's name and, most importantly, by bearing bold witness to the Gospel of Jesus Christ - the only way to bring life out of death.
Recently on Spiritual Life
Have something to say about this article? Leave your comment via Facebook below!
advertise with us
Example: "Gen 1:1" "John 3" "Moses" "trust"
Advanced Search
Listen to Your Favorite Pastors