Gospel of Salvation or Gospel of the Kingdom?
Os Hillman, President, Marketplace Leaders
Wednesday, July 03, 2013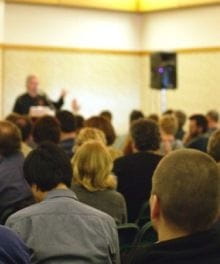 Your kingdom come,Your will be done on earth as it is in heaven (Matthew 6:10).
I want you to imagine a conversation between Joshua and God. "Now Joshua, I have called you to take the leadership from Moses and I want you now to take my people across the Jordan River into the Promised Land. However, once you cross the Jordan River I want you and all your people to sit down. Your mission is done."
"Ridiculous!" you might say. I would agree with you. But, in many ways, this is exactly what the American Church has done in the last fifty years. We have preached the Gospel of Salvation, but we have not taught the people to apply the message of the Gospel to their everyday life. This is the difference between the Gospel of Salvation and the Gospel of the Kingdom.
Jesus did not come to merely give us a ticket to Heaven. He came to bring us much more: the Kingdom of God on earth. Nowhere in the Bible will you find the term "gospel of salvation." The Church does not exist for Heaven, but for earth. If it existed only for Heaven, then each of us would immediately be taken to Heaven.
Oswald Chambers said, "It is not a question of being saved from hell, but in being saved in order to manifest the Son of God in our mortal flesh." There would be no reason for us to remain on earth if there was not a work to be done. So why has God allowed us to receive this new birth and remain on earth? It is so that we might bring the Kingdom of God into our world--our families, our workplace, and our communities.
Jesus talked about the Kingdom of God more than 70 times in the New Testament—much more often than He mentioned salvation. While salvation is part of bringing the Kingdom of God on earth, it includes much more. When Jesus came to earth, He came in order to penetrate the very kingdom of darkness with light. He came to bring healing to sickness, replace sadness with joy, and fill meaninglessness with purpose. He came to change things for the better for a world that had no hope outside of God.
Chuck Colson cites that "Genuine Christianity is more than a relationship with Jesus, as expressed in personal piety, church attendance, Bible Study, and works of charity. It is more than discipleship, more than believing a system of doctrines about God. Genuine Christianity is a way of seeing and comprehending all reality. It is a worldview."
God wants you to bring the Kingdom of God into the territory He has given you so that His will can be done on earth as it is in Heaven. Your domain is your workplace, family, and community. When the Gospel of the Kingdom comes into a life and a community, everything in its wake is impacted. However, we need to understand how the Church got to this place of being stuck on the Gospel of Salvation.
In 1999 we hosted a marketplace conference in Atlanta. One of my speakers was Landa Cope. Landa is Dean of the College of Communication for Youth with a Mission University of the Nations. Landa teaches all over the world. At that time she was writing a book and she was teaching us from her notes. Today her book, entitled The Old Testament Template, addresses the issue of the failure of the Church to operate from Jesus' paradigm of the Gospel of the Kingdom versus the Gospel of Salvation. She believes this is why we have had such little impact in the western Church.
Her opening chapter tells a story about her sitting in her living room one day watching television when a British journalist began to say that Christians believe that the more Christians there are in a community, the more that community will be affected for good. The greater the Christian presence, then the greater the benefit to the society at large.
Recently on Spiritual Life
Have something to say about this article? Leave your comment via Facebook below!
advertise with us
Example: "Gen 1:1" "John 3" "Moses" "trust"
Advanced Search
Listen to Your Favorite Pastors