Gospel of Salvation or Gospel of the Kingdom?
Os Hillman, President, Marketplace Leaders
Wednesday, July 03, 2013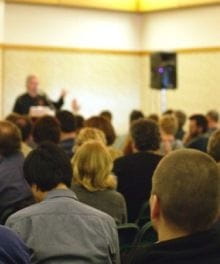 The TV journalist went on to describe a research project that was designed to discover if this was true. He evaluated the most Christianized city in America to see how this influence worked out practically. He defined most "Christianized" as the community with the largest percentage of church attendance regularly. That city was Dallas, Texas. He looked at various statistics and studies, including crime, safety on the streets, police enforcement, and the justice and penal system. He looked at health care, hospitals, emergency care, contagious diseases, infant mortality rate, and the distribution of care givers. He reviewed education, equality of schools, safety, test scores and graduation statistics. Jobs, housing, and general economics were also evaluated. Each of these categories was evaluated using racial and economic factors. Was there equity regardless of color, creed or income? And so on.
By the time the journalist host was done with the conclusions of the Dallas study, Landa was devastated. No one would want to live in a city in that condition. The crime, the decrepit social systems, the disease, the economic discrepancies, the racial injustice all disqualified this community from having an adequate quality of life. And this was the "most Christianized" city in America. Landa wanted to weep.
The host took this devastating picture of a broken community to the Christian leaders and asked for their observations. One by one, each pastor viewed the same facts about the condition of his city. With simplicity, the narrator asked each minister, "As a Christian leader what is your response to the condition of your community?" Without exception, in various ways, they all said the same thing, "This is not our concern ... we are spiritual leaders."
Martin Luther said, "A gospel that does not deal with the issues of the day is not the gospel at all."
God is doing a unique work in the earth today. There are seasons in which the Holy Spirit speaks things to the Church. During one decade it might be a focus on evangelism. During another, it might be a greater awareness of the Holy Spirit. During another, it might be a focus on social problems in cities.
For the last several decades we have seen the Church focus on proclamation evangelism. This has been true in the workplace movement as well. In 1930 CBMC, a workplace ministry, began with a focus on evangelizing men in the workplace. Twenty years later Full Gospel Businessmen International was birthed through Demos Shakarian. This too, was a focus on winning men to Christ.
Billy Graham arose in prominence during the fifties and sixties. His crusades won many to Christ. However, in the workplace movement we began to see some discrepancies similar to Landa's story. We would often hear comments from Christians and non-Christians: "I will never work with a Christian. The last time I did I got burned." The reason this was happening was that people were getting saved in the marketplace, but their lives had not been transformed. Their soul had been redeemed but their working life had not. In other words, the Gospel of the Kingdom had not been realized in their lives.
It wasn't until the 1980s until this began to change in the workplace movement. Groups like the International Christian Chamber of Commerce (ICCC) emerged in 1985 and began helping men and women apply the Word of God to how they worked. Work was no longer a platform for sharing the Gospel, it was now a place to bring the presence and power of God into the very way we operated our businesses. Many other marketplace groups birthed along the same time frame, also with a focus on applying the Word of God to how individuals worked.
In the nineties we began to see a new focus emerge. This focus was on social entrepreneurship and social transformation. Groups like the Pinnacle Forum and HalfTime with Bob Buford began to promote social agendas using entrepreneurship from a Christian viewpoint to impact the culture. Our organization, Marketplace Leaders, was birthed in 1996. Our mission is to help men and women fulfill their purpose in and through their work life.
Recently on Spiritual Life
Have something to say about this article? Leave your comment via Facebook below!
advertise with us
Example: "Gen 1:1" "John 3" "Moses" "trust"
Advanced Search
Listen to Your Favorite Pastors