Guarded Through Faith: Assurance of Salvation & Perseverance
Albert Mohler, President, Southern Baptist Theological Seminary, and Speaker
Wednesday, September 07, 2005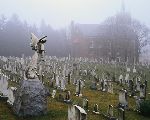 Traumatic world events and nagging questions of belief sometimes cause Christians to be troubled in spirit and to question their assurance of faith. In every generation, believers have struggled with the question of assurance in salvation.

As always, the church confronts this issue as both a pressing theological question and as an urgent pastoral concern. Answering these questions anew, we are reminded once again that all doctrine is practical and that the great biblical truths of the Christian faith are meant not only for our intellectual acceptance, but for our spiritual health.
Many Christians suffer from an absence of Christian assurance. They lack confidence in their salvation and are troubled by nagging doubts, perplexing questions, and a lack of clarity about whether assurance of salvation is actually possible. At the same time, the church has always faced the reality of false professors and those who fall away. These are problems that trouble the soul and raise unavoidable theological questions.
Clearly, now is the time for clarification and for the recovery of a biblical concept of assurance. Beyond the immediate questions of assurance and false professors, the church must also confront superficial and inadequate understandings of assurance--concepts that can actually mislead and confuse.
The Apostle Paul assured the Christians in Philippi of his absolute confidence "that he who began a good work in you will bring it to completion at the day of Jesus Christ" [Philippians 1:6]. The logic of that passage is of vital importance. Paul's confidence was not that the Philippians would be able to preserve themselves. To the contrary, Paul's confidence was established in Jesus Christ and in the promise that Christ would complete the work He had surely begun in them.
Coming to the end of his own life, Paul expressed personal confidence that the Lord would "bring me safely into His heavenly kingdom" [2 Timothy 4:18]. Without this confidence, how could Paul have faced the prospect of his own death? His desire was for fellow believers to experience this same confidence and assurance.
Jesus taught His disciples a great deal about the believer's assurance, ultimately establishing assurance in the Father's promises to the Son. In the Gospel of John, Jesus teaches that "this is the will of Him who sent Me, that I would lose nothing of all that He has given me, but raise it up on the last day" [John 6:39]. This is a magnificent promise, and one that makes sense only in light of Jesus' straightforward revelation concerning the Father's authority in salvation: "All that the Father gives to Me will come to Me, and whoever comes to Me I will never cast out" [John 6:37]. Those who are in Christ's hands will never be lost, for they have been called, drawn, and given to Him by the Father Himself. As Jesus the Good Shepherd said in John 10, "My sheep hear My voice, and I know them, and they follow Me. I give them eternal life, and they will never perish, and no one will snatch them out of my hand. My Father, who has given them to Me, is greater than all, and no one is able to snatch them out of the Father's hand" [John 10:27-29].
Thus a consistent biblical theme emerges from the scriptural text. Jesus assured His disciples that their salvation was rooted in the eternal purposes of God and that those who truly come to faith in Him are safe within God's mercy. No one is able to snatch believers out of the Father's hand, and all who come to the Son are preserved by the Father.
Christians should find great comfort in the biblical promises of assurance. This is because these promises are founded ultimately in the eternal purposes of God, in the Son's accomplished work, and in the Father's vindication of the Son. Those who truly come to Christ by faith are guarded, preserved, and kept by the power of God. Our Lord did not intend His people to be trapped in a maze of doubt and insecurity. To the contrary, Christ instructed His sheep to trust in Him and His promises.
Recently on Spiritual Life
Have something to say about this article? Leave your comment via Facebook below!
advertise with us
Example: "Gen 1:1" "John 3" "Moses" "trust"
Advanced Search
Listen to Your Favorite Pastors