Guarded Through Faith: Assurance of Salvation & Perseverance
Albert Mohler, President, Southern Baptist Theological Seminary, and Speaker
Wednesday, September 07, 2005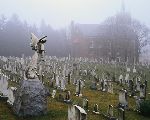 Assurance of salvation is indeed possible -- and is a Christian responsibility. Pernicious doubt concerning salvation may be an indication that the believer does not truly trust the character, power, and purposes of God. Thus a believer's insecurity--sometimes disguised as an artificial humility--can be evidence of a heart that does not adequately trust in the promises of God.
At the same time, saving faith is demonstrated in a transformed life. Peter, for example, instructed believers to observe their lives, looking for the evidence of authentic faith and the marks of true discipleship. Peter summarizes his exhortation with these unforgettable words: "Therefore, brothers, be all the more diligent to make your calling and election sure, for if you practice these qualities you will never fall" [2 Peter 1:10].
How are believers to make their "calling and election sure?" There can be no question that Peter expected Christians to look and strive for the characteristics which should mark those who have been transformed by the power of God. Thus, the believer's calling and election--the very foundation of the salvation experience--would be evident in a new heart and a transformed life.
Paul also repeatedly warned Christians not to abandon their faith or to fall prey to false teachers. He even went so far as to identify some who had "nullified" the grace of God [Galatians 2:21] and others who had fallen away and abandoned their faith. Demas, for example, "in love with the present world," had deserted Paul and the gospel [2 Timothy 4:10]. Hymanaeus and Alexander had "made shipwreck of their faith" and thus had been handed over to Satan by Paul "that they may learn not to blaspheme" [1 Timothy 1:20].
In pondering biblical warnings like these, most Christians think of the passages in Hebrews which have spawned so many different interpretations. How are we to understand these warnings--particularly as found in Hebrews 6:4-8? No doubt this is a crucial question, for how we interpret this passage is inextricably tied to larger theological issues--including our understanding of the church itself.
The warnings of Hebrews 6 are seen in the clearest light when put alongside Jesus' parable of the sower and the soils as found in Matthew 13 and Luke 8. Comparing the human heart to soils of the field, Jesus pointed to the reality that the church would encounter those who would "believe for a while," but would fall away under testing or persecution. When Jesus identified the shallow soil, He was certainly speaking of those whose faith would be, as described by the Puritans, a temporary or false faith. Thus, those who are described as falling away in Hebrews 6 are those who falsely confessed faith in Christ. As with the soil that bore fruit for a time but withered, so with those who have "tasted the heavenly gift" but fall away. Theirs was not a genuine and enduring faith, but a fickle and false faith. This is an urgent and sober warning.
In the final analysis, the gift of assurance rests on the biblical doctrine of perseverance. This doctrine teaches that true believers are those who persevere in and by faith. Their endurance--having been preserved by the power of God--becomes the demonstration of their salvation and the mark of authenticity. The biblical doctrine of perseverance corrects misunderstandings implied by more superficial conceptions of the believer's state. Some teach that anyone who has at any time made a profession of faith in Christ or exercised the slightest belief is secure. These teachers actually argue that true believers may demonstrate absolutely none of the marks of gospel authenticity. In other words, such persons never repent of their sins, and may even repudiate the faith--but are supposed to be secure in their salvation. Nothing could be farther from the truth.
Recently on Spiritual Life
Have something to say about this article? Leave your comment via Facebook below!
advertise with us
Example: "Gen 1:1" "John 3" "Moses" "trust"
Advanced Search
Listen to Your Favorite Pastors