Hated Converts
David A. Williams
Wednesday, December 18, 2002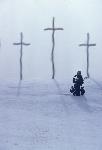 When Stephen was stoned by the Sanhedrin, Paul (then Saul) guarded the clothes of the stoners and gave approval to Stephen's death (Acts 7:58, 8:1).
After Paul's conversion "when he came to Jerusalem, he tried to join the disciples, but they were all afraid of him, not believing that he really was a disciple" (Acts 9:26).
Why is it that most people act incredulously when they hear that a notorious person has come to Christ? Perhaps it is because they believe that only "good" people go to heaven. That is, in order to get to heaven one must perform good works. 
But the Bible says, "There is not a righteous man on earth who does what is right and never sins" (Eccles. 7:20). Jesus said, "No one is good -- except God alone" (Mark 10:18). In fact, all of our righteous acts are as "filthy rags" (Isaiah 64:6).
Salvation can come only by faith (Eph. 2:8-9, Rom. 3:22), by believing in Jesus Christ (Acts 16:31). This is a concept so simple, yet profound. The Apostle Paul commented on the world's resistance to God's simple plan of salvation when he said, "God was pleased through the foolishness of what was preached to save those who believe. ... a stumbling block to Jews and foolishness to Gentiles" (1 Cor 1:21,23).
Therefore it is not surprising today when the world reacts negatively and even with sarcasm at those "notorious" sinners who have come to Christ. It has always been so. For those of us who are already Christians, the difference between our former condition and that of the "hated" converts is only in the notoriety of the sins. But for the grace of God we would have been them.
David A. Williams is a layman from Fort Worth, Texas. He has served as a news commentator on public television in Texas and Virginia, and was a Speech Writer, Confidential Assistant for External Affairs and a Legislative Liaison in the Reagan Administration.  
Recently on Spiritual Life
Have something to say about this article? Leave your comment via Facebook below!
advertise with us
Example: "Gen 1:1" "John 3" "Moses" "trust"
Advanced Search
Listen to Your Favorite Pastors