Heaven is Now
Andrew Farley
Thursday, July 05, 2012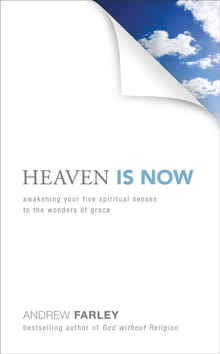 EDITOR'S NOTE: The following is an excerpt from Heaven is Now by Andrew Farley (Baker Books).
AWAKEN!
In 1998, my father was in a bad car accident. As he lay there in a coma in Fairfax County Hospital, a pastor arrived and tried to heal him. The pastor anointed him with oil, prayed for him, and tried to raise him from the dead. But my dad wouldn't have it. His limp body just lay there, lifeless.
Sometimes we want to change our circumstances. We want to manipulate the externals so that wecan somehow feel better on the inside. We want to ask, even in Jesus's name, that things be different.
We want control.
But if you've lived more than a day, you've already
figured out that it's not happening. We are not in control. Things happen, and we have no say in the matter. Clearly, we're not going to experience something different by controlling our circumstances. Hope must come from somewhere else. Hope must come from heaven in the midst of what earth presents us.
Any other hope is delusion.
Invited to Heaven
An early church writer spoke of this hope from heaven: "We have this hope as an anchor for the
soul, firm and secure. It enters the inner sanctuary behind the curtain, where our forerunner, Jesus, has entered on our behalf" (Heb. 6:19–20). But Jesus never entered any inner sanctuary in the Jewish temple. He wasn't permitted behind the curtain. Here, the writer means heaven itself, where Jesus entered after his resurrection.
But there's more. Speaking of this heavenly sanctuary, the writer then claims that "we have confidence to enter the Most Holy Place by the blood of Jesus, by a new and living way" (Heb. 10:19–20). This too means heaven, but this time we are invited.
This invitation is not merely about a future in heaven. It's about awakening to a very present hope. Our God has set it up for today, and he invites us to enter in. Why does he bother with such a spectacular invitation?
Because heaven is now.
The Kingdom Within
Heaven is now?
We're told that God "seated us with him in the heavenly realms" (Eph. 2:6), that "our citizenship is in heaven" (Phil. 3:20), and that we are "aliens and strangers" in this world (1 Pet. 2:11 NASB). We explain these away the best we can. We can't have our faith involving such ridiculous notions. After all, how can any of it really be true here and now in the midst of so much ugliness all around us?
The early church knew this ugliness. They saw it up close and personal as many of them were taken from their families, imprisoned, tortured, even killed. They were no strangers to trouble. Still, they insisted—heaven is now.
No, we can't know all of heaven here and now. It will take a lifetime and more to gather it in. But even if we only partially realize heaven's splendor on this side, it is still the sweetest form of life to embrace in the midst of all that earth throws our way.
I'm not making any promises that your circumstances will get better. Our circumstances are externals. This book is about what goes on inside of us in the midst of our circumstances, not outside or all around us. As Jesus put it, "The kingdom of
God is within you" (Luke 17:21 NKJV).
Toward the Sky
We hear that heaven is now, and we wish to feel it. But our feelings come and go, as we travel fromthe heights of happiness to the depths of despairin seconds. We ride the roller coaster of the soulevery day. So what if the real hope we have is notfound in our feelings? Would that kind of hope beworth pursuing?
Recently on Spiritual Life
Have something to say about this article? Leave your comment via Facebook below!
advertise with us
Example: "Gen 1:1" "John 3" "Moses" "trust"
Advanced Search
Listen to Your Favorite Pastors