How God Breaks Us
K.P. Yohannan, Gospel for Asia
Thursday, January 12, 2006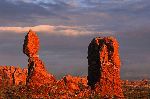 The LORD is close to the brokenhearted and saves those who are crushed in spirit" (Psalm 34:18, NIV).
It is very interesting to note how this verse says "the Lord is close." So what is the opposite? The Lord is far away. He is distant from someone who is not broken. The way to have God near to you is to be humble and broken. As long as we are stubborn and hard and unbending, He will be far from us.
But the kind of people God will never despise or walk away from are the individuals who live with a broken spirit and a contrite heart. "The sacrifices of God are a broken spirit, a broken and a contrite heart—these, O God, You will not despise"
(Psalm 51:17).
Imagine someone dying of hunger. There is food placed before him, but no matter how hard he tries, he cannot eat. The problem is that his mouth is stitched closed and his hands are tied behind his back. Even if someone tried to feed him, he could not receive the food.
In our spiritual life, the same thing can happen. No matter how much God loves us, no matter what He wants to do for us or how earnestly He seeks to bless us, He cannot do anything with a person who closes his heart in pride, refusing to bend and break. And as long as this believer lives on earth, God's consistent work is going to be to bring him to the place of brokenness.
God never gives up on us until we are broken. Consistently He works with us.
And He uses all kinds of methods. Either He will break our outward man gradually, like one steadily chips away at a large stone, or He will break us suddenly, through some major crisis. Sometimes there is a sudden breaking, followed by gradual. For others, the Lord arranges daily trials, difficulties, difficult people, hard circumstances, physical problems and all sorts of things—you can write your own list—to bring us to the place
of brokenness.
God works with each one of us in His way. The way He breaks you may be different from the way He breaks me. And the timing of it all is in His hands. However, we can certainly prolong the process. In some lives, God can bring an individual to the place of brokenness in six months, one year or three years. For some it is a lifelong process—10, 20, 30 years. The saddest of all is wasting such incredible, precious years because of our resistance.
My Personal Experience
The first time I can distinctly remember the experience of being broken, I was about 18. At that time I didn't understand anything about what was happening, except that it was painful and it hurt.
From the age of 16, I had been involved with a youth evangelistic movement. The Lord had gifted me to teach, but at that time I didn't realize it was a gift He had given and not something I had of myself.
Recently on Spiritual Life
Have something to say about this article? Leave your comment via Facebook below!
advertise with us
Example: "Gen 1:1" "John 3" "Moses" "trust"
Advanced Search
Listen to Your Favorite Pastors