How God Breaks Us
K.P. Yohannan, Gospel for Asia
Thursday, January 12, 2006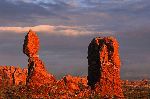 After a few years with the movement, I was known and recognized for my ability to communicate and teach effectively. I was in great demand by all the area coordinators.

Everybody was asking for me to come to their area because they wanted someone to preach and teach like I was able to do. It's not that there were no other preachers. It was a young people's movement—there were only about 300-400 of us. There is a saying, "In a country where nobody has a nose, the one with half a nose is the king." I mean, in my little world out there, I was the one with half a nose. And I felt really good about my nose! I was in such demand, and I was flying high.
It was during our 30-day conference in Aimer, Rajasthan, that I first began to experience what it means to be broken.
At the end of the conference, each area coordinator selected the people they wanted on their teams for the upcoming season of ministry. Throughout the conference, I was walking around like a peacock with his feathers displayed. I was thinking, "My goodness, what am I going to do when the conference is over? Everybody is going to want me. How am I going to say 'no' to so many people? I am going to be in such demand. What am I going to do with myself?"

But when the conference came to an end, I had not been chosen to be on anyone's team. Nobody wanted me. The selections were made, and I just sat there all alone. One by one, I watched as the teams started to leave.
That evening, one of the senior leaders came to talk to me. He walked me out of the meeting place, through an old beat-up door with a half-broken light hanging down outside it. We walked out into the night and sat on a large stone outside the meeting place. He turned to me and said, "Brother K.P., all the teams are gone. Only five or six individuals are left. You are one of them. Nobody wants you."
I was totally shaken by that. I didn't have anything to say. He didn't tell me this in a nice, cozy living room with us sitting on comfortable chairs. There were no stars shining in the sky; it was a dark night. We just sat on a rock outside. He didn't put his arm around my shoulders to comfort me. He simply said, "Your pride, your arrogance is the reason." Then he got up and walked away.

I sat there for a long time. My whole world had collapsed.
The next few days I said to myself over and over again, "I will never preach again. I will never teach again. I don't ever want to do ministry again. Nobody wants me. They don't understand how much I have done for them. They don't know how hard I have worked." For days I was like this.
Then God, in His mercy and grace, came through and told me, "What he said is true. It is your pride, your stiff neck and your unwillingness to bend."
By His grace, I had the courage to look back over the past months and years on the teams I had been a part of and realize how impossible to live with I had become—hard-hearted, argumentative and always thinking my way was best. No matter what the leaders suggested, I took a different approach. I had a different idea of how to do it. Regardless of what the argument was, I always sought to win. And most times, I got it my way.
Recently on Spiritual Life
Have something to say about this article? Leave your comment via Facebook below!
advertise with us
Example: "Gen 1:1" "John 3" "Moses" "trust"
Advanced Search
Listen to Your Favorite Pastors