How to Hear God's Voice
Whitney Hopler, Crosswalk.com Contributing Writer
Thursday, October 09, 2008
Taking a step of faith: Sometimes you have to take a step of faith toward something you think God is calling you to do before He will speak to reveal more about His will. Be willing to take that step.
Mentors and spiritual parents: God can speak to you through spiritual mentors – people who have more life experience and greater spiritual maturity than you. Their advice is often filled with God's wisdom.
Coaching and spiritual direction: People who care about you and work to help point you in the right direction in life will help you discover God's will for you and take the next steps in His plan.
Fasting: Fasting helps you remove distractions from your life so you focus more completely on God. As a result, you can hear His voice more clearly.
A Sabbath rest: When you rest, you stop depending on your own efforts and rely more fully on God. You can become more aware of God's presence while resting, which will help you hear Him speaking to you.
Going back to where the ax head fell: This means that, if you find that you're on the wrong path, you can go back to where you last heard from God and try to reconnect with Him for fresh direction.
Discernment: Ask God to help you discern the difference between His voice, your own voice, other people's voices, and Satan's voice speaking to you. Practice recognizing the differences between them, and it will become easier over time.
Resisting the devil: Demonic spirits work to keep you from hearing God's messages. Whenever you sense the presence of evil, renounce it through the authority you have in Christ.
Silencing voices from the past: Move on beyond unhealthy experiences you had before you became a Christian. Refuse to listen to voices that defeat you. Instead, claim the freedom from sin that is yours in Christ. Expect God to love you and speak to you, and He will.
Finding freedom: Pursue the healing you need to break free of anything that's holding you in bondage – from an addiction, to a self-defeating attitude. Once you've found freedom, you'll be in a better position to hear from God.
A daily encounter: Set aside a special time to meet with God through prayer each day. The more you listen to Him, the more you'll hear what He has to say.
God's character: God often speaks to you through what He reveals about His character, like unconditional love and righteousness. The more you learn about what God is like, the more you can recognize Him speaking.
Angels: God has directed angels – His holy messengers – to guard all Christians. Although you may or may not actually see an angel (since they appear only when necessary to accomplish a specific purpose), you can rest assured that they are around, because God cares for you. If you do encounter an angel, pay close attention, because the message he or she delivers will be important.
God's silence: When you're doing your best to listen for God but don't hear from Him, let His silence remind you of your deep need for Him and draw you closer to Him. Remember that God is always with you – even when you can't sense His presence – and even His silence has a redemptive purpose in your life.
Co-laboring with God: Often, the Holy Spirit will direct you from within and empower you to make wise decisions. As you acknowledge God moment by moment, He will direct your steps.
Practicing God's presence: Nurture a loving relationship with God and intentionally spend time with Him for no other motive than to hear from Him because you love Him. He will respond.
Watching what the Father is doing: Notice how God is at work around you, and see what you can learn from it. Choose to trust God even when you don't understand what He's doing. Whenever He leads you to join Him in His work, decide to obey, and He will keep leading you.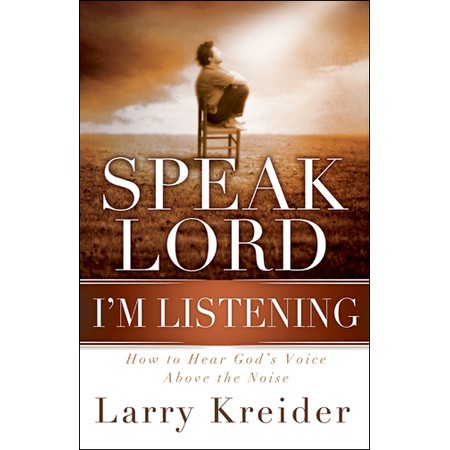 Adapted from Speak, Lord, I'm Listening: How to Hear God's Voice Above the Noise, copyright 2008 by Larry Kreider. Published by Regal Books, a division of Gospel Light, Ventura, Ca., www.regalbooks.com.
Larry Kreider serves as International Director of DOVE Christian Fellowship International (DCFI), a worldwide network of cell-based churches and micro (house) churches. During the past two decades, he has trained Christian leaders nationally and internationally to make disciples using the small-group concept. He has written 20 books, including Authentic Spiritual Mentoring, House to House and Starting a House Church.
Recently on Spiritual Life
Have something to say about this article? Leave your comment via Facebook below!
advertise with us
Example: "Gen 1:1" "John 3" "Moses" "trust"
Advanced Search
Listen to Your Favorite Pastors