How You Can Make a Fresh Start
Whitney Hopler, Crosswalk.com Contributing Writer
Thursday, August 20, 2009

Find true friendships. Loneliness can make you feel stuck without hope of finding others who will truly care about you and share life's joys and sorrows with you. But God will give you the courage you need to reach out to people and form true friendships. Realize that you and a few close friends can be better together than you can be apart, because you can grow through your friendships into the people God wants you all to become. Ask Got to give you abundant opportunities to connect with people and cultivate close friendships with them.
Redeem rejection. Memories of past rejections can leave you stuck without the will to take new risks and try to pursue God's best for your life. But while people in our fallen world will inevitably let you down, God will always be there for you when you need Him. You can have complete confidence that God loves you unconditionally and will help you move forward with your life to fulfill good purposes. Choose to live to please God, not other people.
Ask God to help you see the potential that He sees in your life. Pray to have compassion on the people who reject you, realizing that they're hurting people in need of God's grace, just like you. Let your experiences of rejection make you a more compassionate person toward other people. Invite God to pour out His love through your life to help heal the pain that others feel and draw them to Him.
Attack anger. If you're stuck in anger, God will give you the peace you need to overcome it. Delay responding immediately to people and situations that make you angry. Step back to ask yourself, "Why am I really angry?" Realize that anger is a secondary emotion; try to identify what the primary emotion is that's causing your anger (frustration, disappointment, annoyance, fear, etc.). Defuse your anger by choosing to respond in a peaceful way, despite your feelings (such as deleting an offensive e-mail without reading it or making a joke about a hurtful comment someone makes). After you've had enough time to calm down, you can confront the people who make you angry through calm conversations that let them know how they made you feel. Pray for the wisdom and power you need to choose peace over anger.
Share your story with others. Let people who don't yet have relationships with Jesus know about how God has given you a fresh start in life. Talk with people on common ground (wherever you all are regularly together, such as at work, school, or your favorite restaurant). Accept people as God's creations, even when you don't agree with their lifestyles or approve of their choices. Avoid being preachy, pushy, or phony with them.
Simply share the story of what you life was like before Jesus and what it has been like since Jesus changed your life. Then naturally shift the conversation to them, asking about something simple like: "What about you? Have you ever had any interest in God?". As you're faithful in caring for people, you can expect God to do the rest of the work to draw them into relationships with Him. Celebrate how God uses your own fresh start to inspire other people to pursue fresh starts in their own lives.
Keep going strong. Stay closely connected to God so you can live with passion each day and depend on God's power to help you live out the right values. Your fresh start can keep propelling your life in the right direction.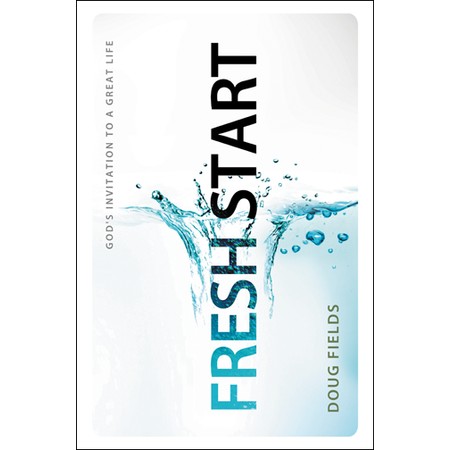 Adapted from Fresh Start: God's Invitation to a Great Life copyright 2009 by Doug Fields. Published by Thomas Nelson Publishers, Nashville, Tn., www.thomasnelson.com.
Doug Fields graduated from SCC in 1984 (now Vanguard), and received his MDiv. from Fuller Theological Seminary in 1986. Doug has served as a youth pastor for 25 years, and has been teaching pastor at Saddleback Church since 1992. Doug has been a global youth ministry leader through his books, speaking and youth ministry resources. He is the award-winning author of more than 40 books, many of which serve as curriculum in Seminaries and Bible Colleges. Besides speaking regularly to teenagers and the congregation of Saddleback Church, Doug can also be found speaking to youth workers around the world. Doug would say his greatest accomplishment is marrying way out of his league to his wife Cathy of 23 years. They have three teenage children; Torie, Cody and Cassie.
Article publication date: August 20, 2009

Recently on Spiritual Life
Have something to say about this article? Leave your comment via Facebook below!
advertise with us
Example: "Gen 1:1" "John 3" "Moses" "trust"
Advanced Search
Listen to Your Favorite Pastors