Humans, Heroes & Other Miracles: A Father's Day Reflection
Jim Robinson, Author & Counselor
Friday, June 17, 2005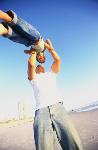 Sixteen years ago, homeless and hopeless, this prodigal finally turned for home. And my sweet Lord, in His unfathomable way, welcomed me into His arms. In the years of healing that followed, my Heavenly father led me back into the arms of my earthly father, too. Through the eyes of Christ, I finally saw my dad as someone who had done his best to protect his children from pain, a husband and dad who had loved us with all of his broken heart, and had tried to shield us in the only way he knew how.

Over time, he and I would slowly forgive each other's mistakes, silently acknowledging our separate abandonment, putting away the unspoken resentments and allowing one another to be human, to be broken, to say that we loved each other, and in some wordless way to become father and son once more. I could look up to him again, to see him as a sort of flawed hero, wounded and far from perfect—like me, like all of us—but my hero just the same. Like Captain America.
I go back there now, and spend time with my father. I'm not afraid of it anymore. I take my new family, and we visit people we love. We eat fried catfish and hush puppies. We visit the cemetery, and say prayers together. And on lazy afternoons with the wind rustling through the tops of giant oaks, I sit with my father and look out over the river, the blackbirds swirling dark over our heads like a storm, then quickly gone. 
Soon we will be having a birthday party in my home. My own son was born six years ago…on Father's Day. As someone who has by God's grace survived my own dark death, I will sit and watch and wonder. The healing hand of Jesus knows no bounds. Unfettered by time, He waits. For each of us. This astonishing truth can never be fully understood, at least by us mere humans. But Jesus Christ lives inside us with an intimacy beyond our comprehension.
Tonight, I will stand and stare at the stars. And I will celebrate the heavens and the earth, God and man, father and son. I will blink back tears, and give Him praise. How amazing indeed that the Creator of the galaxies—He who could be any thing, any time, any place—would through Jesus Christ choose to reside within the human heart. And through Christ alone, we can finally find the courage to reach out by reaching in, and touch the Father that we perhaps never knew.


---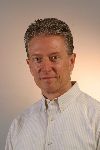 Jim Robinson is a successful songwriter, musician, speaker, author, and recovery counselor. A graduate of Christ Center School of Counseling and Addiction Studies, Robinson is founder of ProdigalSong, a Christian ministry utilizing music, speaking, counseling and teaching to convey healing for the broken spirit. For information about his ministry, music, or his book, also called Prodigal Song, visit www.ProdigalSong.com or contact Jim via e-mail: prodigalsong@juno.com.


Recently on Spiritual Life
Have something to say about this article? Leave your comment via Facebook below!
advertise with us
Example: "Gen 1:1" "John 3" "Moses" "trust"
Advanced Search
Listen to Your Favorite Pastors