Is God Really in Control?
Greg Smith, Insight for Living
Tuesday, December 13, 2005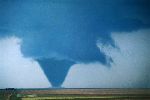 The apostle acknowledged that life in this fallen world is a frustrating mess (Romans 8:20–23), but he says we can be assured that God is using even the smallest details and most insignificant events to accomplish His good purpose in our lives. That purpose is that we become like Jesus (Romans 8:28–29).
However messy things look on the outside, God is at work behind the scenes in our lives to accomplish His eternal purpose. And He will accomplish it, for His own glory (Ephesians 1:12). Even our mistakes, many though they may be, won't thwart His plan. "Faithful is He who calls you, and He also will bring it to pass" (1 Thessalonians 5:24, italics added).
Like Joseph, we may ultimately understand in this life why God allows events to transpire as they do (Genesis 50:20). Or like many Old Testament saints, we may never be able to put the puzzle together this side of heaven (Hebrews 11:35–40). But that's okay. We are not the tapestry-makers. God is.
Currently, we see only the back side of our life's tapestry—a disorderly tangle of yarn. When we are tempted to doubt that a beautiful picture is actually being created on the other side, here are some things we can do. First, stay in God's Word. When things get really bad, flood yourself with God's Word. It's the only way to consistently see things from God's perspective instead of our earthly perspective.
Second, don't try to read the tea leaves. Don't try to figure it all out. We're not very good at it, anyway. Besides, when we try to make sense of what appears to be senseless, we are choosing to trust what we can see rather than the God we cannot. Accept that we are incapable of comprehending the complexities of so vast a universe.
Third, trust our heavenly Father. Trust that He is sovereign, that He does have everything under His control. And trust that He is good, that His heart is only a heart of love for us, and that He is weaving "an eternal weight of glory far beyond all comparison" for us (2 Corinthians 4:17).


---

An outstanding way to develop a deeper trust in God's sovereignty and His goodness is to involve our entire family. Chuck Swindoll and Insight for Living have made many ministry resources available such as the hardcover book Esther: A Woman of Strength and Dignity, the audio series of 12 messages, and an accompanying study guide.

We are also thrilled to add our Paws & Tales series, The Story of Esther: A Girl Who Became Queen to Save Her People. The latter has become one of our most popular series with listeners, both young and old, as they immerse themselves into the story's plot and experience the depth of Esther's own crisis, as well as the depth of God's love and providence. We heartily recommend The Story of Esther to both children and adults as a delightful overview in word and song to this life-changing message from God. These resources are available on the Insight for Living Web site, www.insight.org.

Insight for Living is the Bible-teaching radio ministry of Chuck Swindoll. Our 30-minute daily radio broadcast, Insight for Living, now airs worldwide on more than 2,000 radio outlets daily. Since 1979, Chuck's messages have been aired and distributed all over the world.

Recently on Spiritual Life
Have something to say about this article? Leave your comment via Facebook below!
advertise with us
Example: "Gen 1:1" "John 3" "Moses" "trust"
Advanced Search
Listen to Your Favorite Pastors