Is Your Faith Messy? Take the Chance to Live by Grace
Whitney Hopler, Crosswalk.com Contributing Writer
Tuesday, August 12, 2008

Recognize the value of brokenness. God accepts and redeems your brokenness, and when you trust Him, He'll take the broken pieces of your life and put them together in ways that will make you stronger. Don't be afraid to approach God in the middle of your brokenness; go to Him with a humble and repentant heart, inviting Him to help you. Remember that being broken doesn't make you a bad person or a lost cause; it simply gives you a way to come home to God. Accept the love He offers you.
Trust that God will take care of you. Even with all of life's uncertainties, you can rest assured that God will somehow take care of you. But when you feel some doubt, just be honest about it, and pray for God to help you overcome your unbelief. Don't rely on stuff, people, religion, or anything else to comfort you when you doubt God's goodness or power. Instead, face your questions and work through them. Realize that you can't anticipate exactly how God will lead us out of your struggles and into a better future you can't see, but you don't need to try to guess. All God asks is that you keep moving forward with Him, trusting Him to lead you in the right direction day by day. Remember God's promises to take care of you, and keep walking with Him, expecting Him to keep His promises.
Forgive. God has forgiven you often, and He calls you to forgive others who've hurt you and yourself for your own mistakes. Let your gratitude for the many times God has extended forgiveness to you motivate you to obey His call to extend forgiveness to other people in your life. Choose to forgive – whether or not you feel like it – and expect that, as God works through you to empower you to forgive, your feelings will often change as a result. Forgive whether or not the people who have hurt you ask you to forgive them; do so to be faithful to God and to free yourself from the bitterness that will poison your soul if you refuse to forgive.
Break free of addictions. Look beyond the symptoms of whatever addictions you might be struggling with – drinking, smoking, engaging in unhealthy sexual relationships, working too much, eating too much, watching too much television, etc. – to figure out what issues within your soul are feeding your addictions. Instead of looking for a quick and easy cure, pray for God's deep healing over time – healing that will result in a completely transformed life, in which you're whole and at peace. Realize that only God – not anything you're addicted to – can truly fulfill you. Practice relying on God as your ultimate source for everything you need day by day and even moment by moment, and your ability to trust Him will grow.
Know that God is enough. Place your confidence in God, despite His intangibility and invisibility. Rest in His presence rather than relying on things or people that can't ultimately deliver the help you need in life. Instead of trying to make yourself feel better by looking at things or people right around you, look beyond them to God, who can handle your most messy situations and transform them into something beautiful. Confess your confusion and uncertainty to God whenever you hit a rough time, trusting that even when everything and everyone else is stripped away, God will still be there, leading you through the mess and out to the other side. Stay connected to God through prayer on a regular basis, since that will give you the peace you need to know that He truly is enough for all you need.
Look for treasures in the darkness. Whenever you experience dark times in your life, remember that it's often through those times that your faith is authenticated. You can figure out whether what you believe about God and yourself is really true, whether you love God as much as you say you do, whether the Christian faith is really worth it, whether believing in God matters, and whether you trust God enough – even through the unknown. Ask God to shine His light into your darkness to give you hope and guide you toward His purposes for you. Use what you learn during your times of darkness to encourage others in their own dark times. Trust God to transform your darkness into light that shines in ways you've never imagined possible.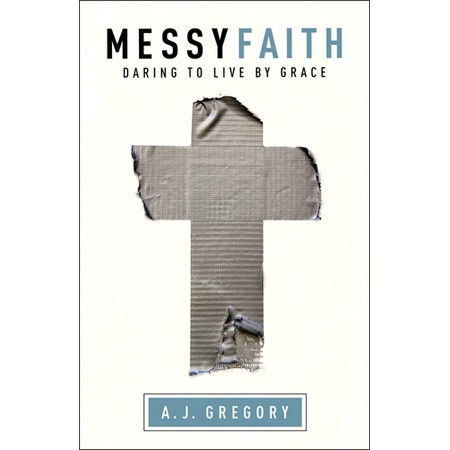 Adapted from Messy Faith: Daring to Live by Grace, copyright 2008 by A. J. Gregory. Published by Revell, a division of Baker Publishing Group, Grand Rapids, Mich., www.revellbooks.com.
A.J. Gregory is an accomplished freelance writer who has helped author seven books. Messy Faith is her groundbreaking attempt at finding some equilibrium between spirituality and the realities of life. She is a member of The Life Christian Church, a seeker-friendly congregation located in a suburb of New York City.
Recently on Spiritual Life
Have something to say about this article? Leave your comment via Facebook below!
advertise with us
Example: "Gen 1:1" "John 3" "Moses" "trust"
Advanced Search
Listen to Your Favorite Pastors