It's Not Unusual to Feel Discouraged
K.P. Yohannan, Gospel for Asia
Monday, June 06, 2005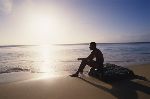 Or think about Elijah. This man of God experienced a miraculous victory on Mount Carmel, when fire fell from heaven and consumed a water-soaked sacrifice. He saw how the Lord glorified His name and destroyed all the prophets of Baal. When Elijah prayed, great things happened-a three-and-a-halfyear drought ended in heavy rain.
But still, he experienced discouragement. First Kings 19:4 tells us that right after these incredible events, he "went a day's journey into the wilderness, and came and sat down under a broom tree. And he prayed that he might die, and said, 'It is enough! Now, LORD, take my life, for I am no better than my fathers!'"
Don't Pretend
There are many examples throughout the Bible of great men and women of God who experienced discouragement. The interesting thing is that they never tried to hide it. They told God about it. They came to the Lord with their feelings and discouragement.
So often we are tempted to cover up our discouragement because we don't want others to think we are weak. We don't want people to think of us as unspiritual. Yet when we read through the Psalms, we hear the desperate cries of many a discouraged man. Psalm 102:1-5 says,
Hear my prayer, O LORD, and let my cry come to You. Do not hide Your face from me in the day of my trouble; incline Your ear to me; in the day that I call, answer me speedily. For my days are consumed like smoke, and my bones are burned like a hearth. My heart is stricken and withered like grass, so that I forget to eat my bread. Because of the sound of my groaning my bones cling to my skin.
The psalmist is discouraged. It is apparent that he is not trying to deny it or hide it from anyone.
And, as always, this honest approach to God brings refreshment and hope. This psalm ends with the writer crying out, "But You are the same, and Your years will have no end. The children of Your servants will continue, and their descendants will be established before You" (Psalm 102:27-28). Most of all, Jesus did not hide His discouragement.
In the Garden of Gethsemane we see Jesus, the One who was there at the spectacular creation of the universe, falling down on the ground in despair. In His moment of greatest need, He did not put on a show for His disciples but was honest and human before them.
He took Peter, James and John along with him, and he began to be deeply distressed and troubled. "My soul is overwhelmed with sorrow to the point of death," he said to them. "Stay here and keep watch." Going a little farther, he fell to the ground and prayed (Mark 14:33-35, NIV, emphasis added).
Recently on Spiritual Life
Have something to say about this article? Leave your comment via Facebook below!
advertise with us
Example: "Gen 1:1" "John 3" "Moses" "trust"
Advanced Search
Listen to Your Favorite Pastors