Jim Caviezel Speaks to Broadcasters about Playing Jesus
Janet Chismar, Senior Editor, News & Culture
Friday, February 20, 2004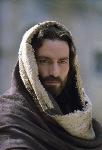 Jim Caviezel, the man who plays Jesus in Mel Gibson's The Passion of the Christ answered questions about his role during a press conference Feb. 17 at the National Religious Broadcasters convention. "I don't what was harder – the scourging, the crucifixion or doing interviews," he joked with reporters. "God bless Starbucks coffee."
Q – How would you go on to another role once you have played Jesus Christ?
Caviezel: "At least I've played Him, I've played Christ. I've been offered to play Christ three different times. It's a real sacred thing. I figured I am going to it right or not do it at all. When Mel originally came to me, he wanted to make it very visceral, something people would not passively watch – nor would I be passively acting it. So that's what I was drawn to.
Q – How has this experience of playing Jesus impacted you personally?
Caviezel:  I get asked that quite a bit. The most I can tell you, the first part, I can't go into the depths of how it personally – there's some things I have to save for myself. But, it's on the screen; you see it. I have said, "I don't want people to see me. I want them to see Christ." I wanted to make Him fully human and also divine. And how are you going to do that? It's through prayer and not just from the head. It has to be from the heart. That's the prayer, I feel, God asks from us. So the physical beatings and suffering – it forced me into the arms of God. I had no other choice.
Q - What to you is the message of the film? 
Caviezel:  Clearly in the film, when Pilate – the scene that was one of my favorite scenes in the film – Jesus talks to him about truth, and he says, "What is truth?" and he goes and he asks his wife Claudia. And she says, "If you don't know, I can't tell you."  And I felt that the whole way since this film has come out. Either people see it [the truth] or they don't, but not to compromise it. That's what I loved about this film, if we were going to do that in a way I wasn't interested in making some film that (….)?
Q - Were there any spiritual aspects on the set among the crew and the actors?
Caviezel:  We had one of the actors in the film who was a Muslim convert and that wasn't anyone voicing it to anybody. It just happened. When we're going to work, when we're filming, we're not doing a film about a doctor. This is about Christ. All the professionals had to ponder the screenplay – the screenplay itself had great substance in it – these words that we spoke in Aramaic and Hebrew and Latin. It forced us to do a lot of research and probably a lot of people found on the set that they really hadn't looked at it in a long time, or they were never privy to it. But you can't be passive when you are doing this film. It's the same thing in watching it.
Recently on Spiritual Life
Have something to say about this article? Leave your comment via Facebook below!
advertise with us
Example: "Gen 1:1" "John 3" "Moses" "trust"
Advanced Search
Listen to Your Favorite Pastors