Journey with Jesus: Do As I Have Done
K.P. Yohannan, Gospel for Asia
Thursday, November 18, 2004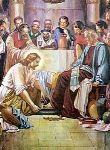 Humility allows Christ's life to be perfected in us. But pride, the opposite of humility, works death in us. To be exalted, honored and recognized was the desire of Lucifer. He was not content with what God had chosen for him so he decided to exalt himself: "I will ascend into heaven, I will exalt my throne above the stars of God" (Isaiah 14: 13). Because of this Lucifer fell, rejected by God because of the pride in his heart. All sin originated in pride and self-exaltation. But our salvation originated in Christ humbling Himself by His death on the cross.
Philippians 2:3–4 tells us, "Let nothing be done through selfish ambition or conceit, but in lowliness of mind let each esteem others better than himself. Let each of you look out not only for his own interests, but also for the interests of others." How does that translate into our lives? We can say with our lips, "I am small," but in our minds we are big. We have our education, our position and our possessions. We can look at someone and say, "This person is more important than I am" all we want. But we must live that out, demonstrating humility, if we are to be changed. In dealing with others, it helps if we realize that we could be in another's situation. If it weren't for the grace of God, that beggar on the street could be me.
In the late 1960s when I was in Rajasthan, we would hire three-wheel rickshaw
taxis to get us around. The passengers would sit on the back seat with their luggage, while the rickshaw driver would sit on the front seat and peddle. For two hours of peddling, a driver would commonly receive about 10 rupees (equivalent to about 20 U.S. cents).
One day, I was riding in a rickshaw on my way to a meeting. It was the middle of summer, and the heat was overwhelming. As I sat in the back seat of the  rickshaw, I watched my driver. He was an old man, all skin and bones, the veins in his neck bulging from the strain and the heat. He had no shirt on, and sweat poured down his body. "This is terrible!" I thought to myself. Here was this old man peddling so hard to get me up this huge hill, in the middle of the summer heat. Certainly I had much more strength than he. I said to myself, "If it were not for the grace of God, I would be doing this job."
So I told the driver to stop the rickshaw. He quit peddling and, concerned he hadmdone something wrong, asked, "What happened?" I said, "Nothing is wrong. I just want you to give me the handlebars and you go and sit on the back." He couldn't believe it! I got on the front seat of that rickshaw and peddled the rest of the way. When I got to my destination, I gave him a Gospel tract and paid him more money than he deserved. The man was blown away by what he had witnessed and experienced.
Truth is, I never could have done something like that if I thought I was better than that man. It is only in seeing Christ's humility and esteeming others better than myself that I am able to love my fellow man and walk humbly with him. As we embrace these opportunities, the sweet love of Jesus flows out of our lives, drawing all men to Him.
Again and again, as the disciples traveled with Jesus, they saw His humility, His tears and His gentleness. Anyone could approach Him; there was no high-mindedness in His response to anyone. From the worst in the society to the most refined in the community, all could approach Him. He who knew their every sin and flaw still embraced them. Each was treated with dignity and compassion. This is the humility of Christ. And He did this so that we might do as He has done.


Recently on Spiritual Life
Have something to say about this article? Leave your comment via Facebook below!
advertise with us
Example: "Gen 1:1" "John 3" "Moses" "trust"
Advanced Search
Listen to Your Favorite Pastors