Journey with Jesus: Nothing of My Own
K.P. Yohannan, Gospel for Asia
Thursday, November 18, 2004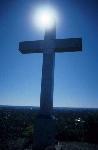 Jesus recognized in the garden of Gethsemane, as the Roman soldiers came to take Him away, that they "could have no power at all against [Him] unless it had been given [them] from above" (John 19:11). And we must recognize the same in our lives, allowing each circumstance to be used as the tool to produce in us the submission and humility of Christ.
In Judges 7, we find the story of Gideon and his army. Starting at 32,000 men, Gideon's army was quickly reduced to 10,000, and again until only 300 men, chosen by God, marched with him. That's less than one percent of what he started with! But Gideon didn't need a large army—only a small one that would simply follow instructions. According to simple math and logic, the men in his army were incredibly outnumbered and doomed to die by the massive, opposing army.

But according to the plan and instructions of the Lord, Gideon readied his men, giving each a clay pot containing a torch inside (see Judges 7:16). He then turned to his army and said, "Look at me and do likewise; watch, and when I   come to the edge of the camp you shall do as I do" (Judges 7:17). Gideon had his men surround the enemy, holding these clay pots in their hands. When he gave them the go-ahead, the men were to break the pots and cause the light to shine out (see Judges 7). They followed Gideon's command and defeated their enemy that day.
These 300 men were totally committed to following Gideon's instruction regardless of how illogical it seemed. They had no opinion of their own or suggestions for Gideon on how to win the battle. Their attitude was, "Whatever you say, we will do." Their submission to the authority of their leader was complete. And so it must be in our lives—total submission to God our Father and the leaders He places over us.
In 2 Corinthians 4:7, Paul writes, "But we have this treasure in earthen vessels, that the excellence of the power may be of God and not of us." But unless we come to the place of giving up our stubborn will, our own ambitions and our way of doing things, the light of Christ will never shine out from us, the earthen vessels.
A.W. Tozer once said, "God cannot use a man greatly until He has broken him deeply." I believe this is true. If Jesus had not submitted and listened to the Father concerning Lazarus, the glory and power of God would not have been displayed through his resurrection. If Gideon's men decided their leader was foolish and therefore did not submit and follow his command, the battle never would have been won, nor the victory given to God. Jesus has set before us His submission as an example that we might do exactly as He has done. First Corinthians 4:2 (TLB) says, "Now the most important thing about a servant is that he does just what his master tells him to." Let us then press on to follow our Master—Jesus—and live this kind of life pleasing to Him, sustained by the submission, humility and love that we see in Him.



 K.P. Yohannan is the founder and international director of Gospel for Asia. He has written more than 200 books published in India and six in the United States, including Revolution in World Missions, a national best-seller with more than 1.5 million copies in print. He and his wife, Gisela, have two grown children, Daniel and Sarah, who are both serving the Lord.



"Journey with Jesus" is a series of articles taken from the booklet, Journey with Jesus, published by Gospel for Asia, © 2003, 2004, KP Yohannon. Order this and other booklets online at www.gfa.org or through: Gospel for Asia, 1800 Golden Trail Court, Carrollton, TX 75010. Toll free: 1-800-946-2742.
Recently on Spiritual Life
Have something to say about this article? Leave your comment via Facebook below!
advertise with us
Example: "Gen 1:1" "John 3" "Moses" "trust"
Advanced Search
Listen to Your Favorite Pastors