Learn to Be Fully Human from the Son of Man
Whitney Hopler, Crosswalk.com Contributing Writer
Thursday, January 22, 2009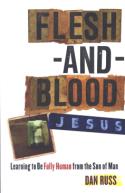 Editor's Note: The following is a report on the practical applications of Dan Russ's new book, Flesh-and-Blood Jesus: Learning to Be Fully Human from the Son of Man, (Baker Books, 2008).
Jesus was fully God, yet He was also fully human. It may seem easier to focus on His divinity, with all of its glorious power. But Jesus Himself emphasized His humanity. He referred to Himself as the "Son of Man" more often than any other title recorded in the Gospels.
The more you get to know about Jesus' human qualities, the more you can learn about yourself.
Here's how Jesus' humanity can help you embrace your own human nature:
· Come to terms with your neediness. Jesus chose to accept the limitations of living as a human being in our fallen world when He left heaven to enter it. Like Jesus, you can admit and accept the fact that you must struggle with weaknesses and needs. Recognize the limits to what you can do, and let that knowledge motivate you to rely more fully on God. Understand how much you still have to learn, and let that knowledge cause you to seek God more. Let the reality of your neediness drive you closer to God, who offers the hope that will ultimately meet all of your needs.
· Find where you belong. Jesus spent His time on earth living within the limits of a particular body in a certain time and in specific places. View the circumstances of your own life as the gifts from God that they are – meant to help you fulfill His good purposes for you. Ask God to help you discover more about those purposes. Get to know where you're from and where you should be going in life. Along the way, be fully present and enjoy the journey.
· Live in the tension between a parent's will and God's will. Jesus always acted in love toward Mary and Joseph, even when He disagreed with them. The tension between you as a grown child and your parents requires that you figure out how to love and honor them while still making your own decisions – even if they don't agree with your choices. Ask God to use the tension to help you and your parents alike grow in maturity.
· Respond wisely to authority. Jesus obeyed the Father, the source of all authority, but still felt free to question God's authority as He wrestled with challenging situations. Jesus also submitted to the authority of various people in His life – His parents, and religious and civil officials. Jesus shows you that authority is a gift from God to protect, guide, and bless you. He teaches you to discern authority's legitimacy, challenge its abuse, and obey when it is righteous.
· Don't be afraid to fail. Jesus failed many times – to live up to His own desires in a fallen world, and to other people's misguided expectations of Him – even though He never sinned. It's not necessarily a sin to fail. Don't try to please everyone. Expect that you will sometimes disappoint the people you love. But when you do fail, you can fail gracefully and without sin. Learn all you can from your failures. Don't give; keep on trying to do your best even after failing – just as Jesus did. Ask God to show you how you can best use your limited life to serve Him. Instead of fighting against the limits that God has placed on your life, wrestle with His will in love, choosing to submit while still being honest with Him about your frustrations. Trust God to use your failures to help you grow as a person.
Recently on Spiritual Life
Have something to say about this article? Leave your comment via Facebook below!
advertise with us
Example: "Gen 1:1" "John 3" "Moses" "trust"
Advanced Search
Listen to Your Favorite Pastors