Learn to Be Fully Human from the Son of Man
Whitney Hopler, Crosswalk.com Contributing Writer
Thursday, January 22, 2009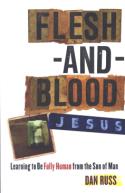 · Build strong friendships. Jesus took the risk of making close friends. He grew close to His disciples and others, investing in the relationships without holding back. You need friends to discover and express who you are and who you're choosing to become. Take the risk to reach out to others and build strong friendships. Expect God to use your friendships to transform you and the people with whom you're friends.

· Deal with family dysfunctions. Jesus loved and honored His family for what they had given Him while still confronting and leaving them for what they didn't give Him. No human family is perfect; even Jesus' family was dysfunctional in some ways. But, as Jesus recognized, the family is a foretaste of the relationships God intends for all humanity to enjoy in heaven – strong bonds of love with God and each other. Recognize that everyone who does God's will are your true family members, whether or not they're related to you by blood or marriage. Having family values doesn't mean being sentimental about those who share your household; it means living by God's truths, responding to all your relationships with love and dignity and sharing a special bond with other believers. Keep in mind that your family should point you to something larger than itself – the universal bond between God and His people.
· Express your sexuality in healthy ways. Jesus embraced His sexuality without diminishing and distorting it into self-centered carnal satisfaction. Although He was a fully sexual being, He chose for the sake of fulfilling His calling to live a celibate life. He shows you that sexuality is about more than just sexual acts; it's about living in the world as either a male or a female, and relating to others from that gender perspective. When Jesus encountered people who were struggling with sexual sin, He encouraged them to be honest about their sin, confess it without shame, and experience forgiveness and grace when they repented of it. Recognize that your sexuality is a gift from God that can bless you when expressed in healthy ways.
· Direct your anger toward a good purpose. Jesus got angry but didn't sin in the process. He was frustrated with people who failed to understand Him and His teachings. He expressed righteous indignation toward people who were committing injustices. From Jesus, you can learn how to express your frustration in gracious ways that will motivate people to learn and grow more. You can use anger as creative energy to capture the attention of those you want to teach. You can also learn from Jesus' example how to confront people who are doing or saying something morally wrong. When you get to know the facts, speak the truth in love, and prayerfully reflect on your own life, your righteous indignation is likely to be effective. Use your anger as a redemptive force to call attention to problems and help find solutions.
· Let your doubts and fears drive you to God. Jesus' life showed that there's nothing wrong with expressing doubts and fears. Honestly admitting your doubts and fears and praying about them can actually draw you closer to God, not farther away. God already knows that you're experiencing them, and He wants you to bring them Him so you'll discover more about your need for Him. The Bible is full of people's expressions of doubt and fear to God. Just as Jesus boldly expressed His human doubts and fears during crucial moments of His life on earth, you can approach God with confidence, knowing that He cares about all of your feelings and will respond to your prayers. View your doubts and fears as God does – as opportunities to grow closer to Him.
Recently on Spiritual Life
Have something to say about this article? Leave your comment via Facebook below!
advertise with us
Example: "Gen 1:1" "John 3" "Moses" "trust"
Advanced Search
Listen to Your Favorite Pastors