Learning Self-Discipline
Friday, February 28, 2003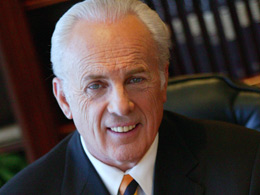 Keep your word. "Undertake not what you cannot perform," a young George Washington exhorted himself, "but be careful to keep your promise." If you say you're going to do something, do it-when you said you would do it and how you said you would do it. When you make commitments, see them through. That calls for the discipline to properly evaluate whether you have the time and capability to do something. And once you've made the commitment, self-discipline will enable you to keep it.
Do the most difficult tasks first. Most people do just the opposite, spending their time doing the easier, low priority tasks. But when they run out of time (and energy), the difficult, high-priority tasks are left undone.
Finish what you start. Some people's lives are a sad litany of unfinished projects. In the words of poet John Greenleaf Whittier,
For of all sad words of tongue or pen, The saddest are these: "It might have been!"
If you start something, finish it. Therein lies an important key to developing self-discipline.
Accept correction. Correction helps you develop self-discipline by showing you what you need to avoid. Thus, it should not be rejected, but accepted gladly. Solomon wrote "Listen to counsel and accept discipline, that you may be wise the rest of your days" (Prov. 19:20); and "He whose ear listens to the life giving reproof will dwell among the wise. He who neglects discipline despises himself, but he who listens to reproof acquires understanding" (Prov. 15:31-32).
Practice self-denial. Learn to say no to your feelings and impulses. Occasionally deny yourself pleasures that are perfectly legitimate for you to enjoy. Skip dessert after a meal. Drink a glass of iced tea instead of having that banana split that you love. Don't eat that doughnut that caught your eye. Refraining from those things will remind your body who is in charge.
Welcome responsibility. Volunteer to do things that need to be done. That will force you to have your life organized enough to have the time for such projects.
P> These practical suggestions may not seem to involve any deep spiritual principles. Yet you cannot split your life into the secular and the spiritual. Instead you must live every aspect of your life to the glory of God (1 Cor. 10:31). And self-discipline cultivated in the seemingly mundane things of life will spill over into the spiritual realm.
Adapted from The Pillars of Christian Character by John MacArthur. © 1998 by John F MacArthur, Jr. Used by permission.
Recently on Spiritual Life
Have something to say about this article? Leave your comment via Facebook below!
advertise with us
Example: "Gen 1:1" "John 3" "Moses" "trust"
Advanced Search
Listen to Your Favorite Pastors