Living as Sons and Daughters
Os Hillman, President, Marketplace Leaders
Wednesday, May 15, 2013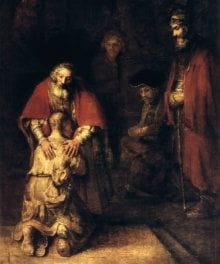 How could it happen that a 30-year old would father someone possibly twice his age? It is because it was a spiritual relationship. Joseph never lost sight of who he was. He never lived as an orphan or a slave. He could be a father to Pharaoh because he was a good son first. He was able to forgive and see a larger story to his life because of his position as a son that he never rejected. This allowed him to operate from an intimate relationship with his Heavenly Father, to have dreams and interpret dreams and to gain super-natural marketplace strategies that would give him favor among the leaders of government because he was a problem solver, not just a religious person. This is also why he did not succumb to the temptations that come with power and influence and wealth. He remained a steward of God's purposes on the earth for the nation of Israel and Egypt. This is why many marketplace leaders cannot be entrusted with wealth and influence today. They still live as orphans and slaves by seeking to achieve value through their accomplishments rooted in performance, workaholism, money and fear of failure.
Joseph lived a life that others were attracted to. His life was rooted in his position as a son of his Heavenly Father and his father Jacob. Joseph's fondness for his father was expressed many times in the scriptures. The one thing he longed for more than anything during those years of separation was to be reunited with his father. This is a picture of the spiritual son to father relationship.
Below is a comparison of what it means to live as a son, versus a slave.
Living as a Son
And because you are sons, God has sent forth the Spirit of His Son into your hearts, crying out, "Abba, Father!" Therefore you are no longer a slave but a son, and if a son, then an heir of God through Christ (Galatians 4:6-7).
A son:
Believes and experiences the unconditional love of the father
Experiences sonship as an heir based on his position to the father
Rests in the security of his father's provision
Knows, "when I fail I am still loved."
Knows, "I'm a steward of what my father entrust to me."
Loves the father's character. (unconditional love)
Knows that value is totally based on position as a son/daughter
Experiences love
Receives gracefully
Recognizes sins, is repentant
Lives from the heart
Believes he/she is loved
Operates in the inner and outer court as both king and priest
Has a Godly Kingdom lifestyle defined by grace and redemption
Lives under God's authority
Living as a Slave
Unless the Lord builds the house, They labor in vain who build it; Unless the Lord guards the city, The watchman stays awake in vain. It is vain for you to rise up early, To sit up late, To eat the bread of sorrows; For so He gives His beloved sleep (Psalms 127:1-2)
A slave:
Believes he must perform to gain the father's love
Believes becoming an heir is tied to performance, not his position as a son
Believes provision is only through performance
Thinks, "when I fail I believe I deserve judgment."
Thinks, "I am entitled to a share of anything I do."
Resents the father's character (wants conditions)
Thinks that value is only based on what he/does does, and how well he/she does it.
Thinks that love is earned
Expects an entitlement
Is self-righteous, prideful
Lives from legalism
Believes he/she is defective (shame)
Operates only in the outer court of performance as a king
Has a worldly kingdom perspective defined by performance and posturing
Rejects God's authority
God Disciplines His Sons and Daughters
Recently on Spiritual Life
Have something to say about this article? Leave your comment via Facebook below!
advertise with us
Example: "Gen 1:1" "John 3" "Moses" "trust"
Advanced Search
Listen to Your Favorite Pastors