Living in Purity in an Impure World
Dena Johnson, Dena's Devos
Tuesday, July 23, 2013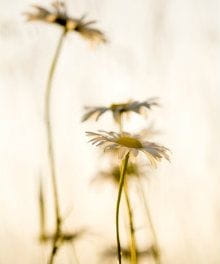 To love is to receive a glimpse of heaven -Karen Sunde
I've spent a lot of time lately contemplating sexual purity. Before I was married, I held to very high standards of purity. I never allowed myself to be in a situation where I might be tempted to compromise my standards. I filled my mind with scripture every chance I could, and I made sure I never looked at anything improper. I was very cautious about the types of books and magazines I read and the movies I saw. I followed the scriptures that say Flee from sexual immorality (1 Corinthians 6:18) and I will set no evil thing before my eyes (Psalm 101:3).
After I was married, I recognized some hints of sexual immorality in my husband. Whether it was the occasional dabbling in pornography or talking about women in a manner that made me uncomfortable, I was repeatedly told "that's just the way men are." I knew that men were wired to be visually oriented, and eventually I became convinced that this "minor" sexual immorality was unavoidable for men.
Since my divorce, I have begun to realize just how much my beliefs toward purity had become skewed during my marriage. I wondered if remaining pure until I was married again was really necessary—really what God expected of me.
About a year ago, I was introduced to the book Every Young Man's Battle. I was visiting with a pastor friend who recommended I buy it and take my teenage son through it so that he does not repeat the mistakes of his father. I bought the book and read it myself so that I could determine if it was something my son needed.
As I read the book, my eyes were opened to just how much my belief system had been warped by my husband. Not only does God want us to maintain our sexual purity, but He says that it is possible—even for men. His word gives us examples of those who maintained their purity (Joseph in Genesis 39) and those who compromised their purity (King David in 2 Samuel 11). He says that even looking lustfully at a woman (or man) is the same as committing adultery with that person (Matthew 5)! God's standards are so much higher than mine had become!
After reading the book, I committed to walk in absolute purity before my God. Not only do I want to model that purity for my three children, but I want to save myself for that special someone so that I can present myself pure and give myself fully to him.
As I strive to keep myself pure in mind and body, I pray that my future husband is doing the same. The longer I travel this path, the more I realize exactly how important purity is—especially in light of what I've walked through.
You see, I have a trust issue. Because I caught my husband cheating on me, I am finding it very difficult to trust men. As a matter of fact, I've determined that I will NEVER trust a man again. Men have proven to me that they are not trustworthy. But, my God has proven COMPLETELY trustworthy. Therefore, it is absolutely essential that I only commit to a man who loves God with all his heart, soul, mind, and strength. Even though I will never trust a man again, I WILL trust God who is in a man. I WILL be able to give myself to the man that I know God has ordained for me, to the man who is seeking to be all God created him to be.
I've chosen to take my purity to extreme levels—even in the Christian realm. Nearly two years ago, I prayed that God would not bring ANY man into my life unless it was the one He has ordained for me. I seem to have a built in discernment that causes me to be almost repulsed by most men. I can tell within a very short meeting whether I am even interested in pursuing friendship with them—let alone a dating relationship.
Recently on Spiritual Life
Have something to say about this article? Leave your comment via Facebook below!
advertise with us
Example: "Gen 1:1" "John 3" "Moses" "trust"
Advanced Search
Listen to Your Favorite Pastors