Living in Purity in an Impure World
Dena Johnson, Dena's Devos
Tuesday, July 23, 2013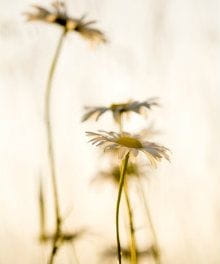 In the very brief time I was on a dating website, I realized that it was a complete waste of time—perhaps even antithetical to what God would want. After meeting a single individual from the website, I realized that the very nature of online dating sites allows you to pursue multiple men/women at the same time. By pursuing even friendship with multiple people of the opposite sex, you are placing yourself in a situation that allows you to lead people on, allowing them to think that you are interested. It is actually allowing you to practice infidelity rather than practice commitment and faithfulness.
I know my opinion is just that—an opinion. Many—perhaps even most—will strongly disagree with me. Online dating sites CAN be used as a great way to meet people. I even know several couples who are happily married after meeting online. But, it is probably rare to find the people who use them to meet one person at a time. A year after I initially signed up for a dating site, I don't think I could ever be actively involved in one again. (Here's the caveat…God can use any method He wants to bring the right person to you…including an online dating site. As I've said before, I truly believe that God led me to the dating site in the first place, and I did make a great friend through my involvement.)
So, what does purity look like for me—and hopefully for my future spouse?
1. I pray daily that God will cleanse my mind of even the hint of sexual immorality. I pray that he will allow me to keep my mind focused on Him and my eyes from looking at anything impure. I was recently invited to see a very popular movie. I immediately noticed that it was rated R, so I dug a little deeper to see why it was rated that way. I noticed the theme of the movie involved infidelity (which if you've ever lived through it, there is nothing entertaining about it). Then, I noticed the language. My entire being was repulsed by the thought of sitting through a movie like that, so I declined.
2. I am contemplating all male friendships and whether they are appropriate. I don't want to lead any man to believe that there might be a possibility of something—now or in the future. I don't want to find myself in a situation where I have given the wrong impression and suddenly I'm faced with the uncomfortable position of saying no to any type of advances. I find that it is safest to simply avoid being alone with men.
3. I pray daily for my future husband, that he is seeking God and giving God every part of his life. I pray that he is keeping his relationships pure. I pray that he is repulsed by dating websites, by women who would lead him to temptation. I pray that he protects his eyes from looking at women lustfully. I pray that he is practicing fidelity by focusing every ounce of his energy on God and his family.
4. I pray daily that my future husband has a passion for marriage, an overwhelming desire to be in a committed, covenant relationship. I pray that he recognizes the value God places on the marriage relationship and how it allows us to grow in holiness. I pray that his heart will be pierced by verses such as Proverbs 18:22: He who finds a wife finds what is good and receives favor from the Lord and Proverbs19:14: Houses and wealth are inherited from parents, but a prudent wife is from the Lord.
5. I pray that God will prepare me for marriage, that I will be the wife of noble character that is worth far more than rubies (Proverbs 31:10). I pray that I would be cleansed of all emotional baggage that I carry from my past, that all wounds would be completely healed. I pray that God would give me the strength to trust Him so that I can trust the man whose heart is completely his.
Recently on Spiritual Life
Have something to say about this article? Leave your comment via Facebook below!
advertise with us
Example: "Gen 1:1" "John 3" "Moses" "trust"
Advanced Search
Listen to Your Favorite Pastors