Living Through the San Diego Wildfires
Tonilee Adamson, Daily Disciples Ministries
Tuesday, November 27, 2007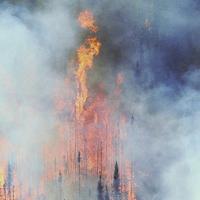 Many of us have been in situations where we have claimed to have had a spiritual intuition of an event, as if "someone greater than ourselves" was trying to tell us or warn us of something. We tend to understand what God was saying after the fact instead of before. We also know that hindsight has 20/20 vision. Why do we struggle to put all the pieces together before the events happen? Personally, I can quickly discern that God is speaking to me from the heavens but I am not as readily able to predict how that message will play out on earth. The San Diego fires were no different. God knew what was coming and He desired to speak to His people about them. Sadly, we learn to listen to others more than we listen to the Lord. We learn to appreciate those verses and promises we can claim for ourselves with little insight as to how God intends to accomplish His will. Let me explain:

Bobbye Brooks (my ministry partner), myself and the Daily Disciples Ministries team were invited to a church retreat on Palomar Mountain in San Diego County the weekend of October 20, 2007. Our hearts are to minister to women of all backgrounds so we appreciate the uniqueness of the churches that have asked us to come. It is amazing that although some of the churches bear the same names, they have completely different callings and comfort zones. At this church retreat, the worship leader felt free to ask the audience if anyone had a word of knowledge from the Lord. We were surprised that she opened up the room to allow the Lord to speak personally to the group through the women sitting there. I am very comfortable with the Lord leading me like this so I was not surprised when a passage of Scripture came to mind. I turned to Isaiah 43:1-3:
But now, thus says the Lord, who created you, O Jacob, And He who formed you, O Israel: "Fear not, for I have redeemed you; I have called you by your name; You are Mine. When you pass through the waters, I will be with you; And through the rivers, they shall not overflow you. When you walk through the fire, you shall not be burned, Nor shall the flame scorch you. For I am the Lord your God, The Holy One of Israel, your Savior."
The room remained quiet as I showed Bobbye these verses. No one else had anything to share which made my heart pound harder, faster and louder to read these verses. I knew that the Lord wanted these verses alone to be shared. Just as I was about to read them aloud, the worship leader began playing the next song. To Bobbye's and my amazement, the song that the worship leader played quoted the very same passage of Scripture in Isaiah. We knew that the Lord was getting our attention. God was speaking to us through the Scriptures. After the worship was over, Bobbye and I were next on the schedule to speak. Of course, we shared with the ladies the passage in Isaiah 43, knowing that 2 Corinthians13:1 says that "By the mouth of two or three witnesses every word shall be established." Isaiah 43:1-3 was confirmed by two witnesses that God was speaking to us as a group. We did not realize the significance these verses would soon have. This was one of those times that we had ears to hear but it was difficult to discern if the message was literal or figurative. We all seemed to be content with believing that there are no coincidences with God and He uses people to speak and confirm His Words to others, through others. No one that I knew of, including myself, asked the Lord to clarify this message any further. In hindsight, we should have been asking, seeking and knocking to not only know His Word but to also know His Will. Why was He was giving these verses to us? Are the verses for our spiritual well being or are these verses God's Will to be accomplished on earth as it is in heaven…today? The reason for the verses became perfectly clear as we headed down the mountain.
Recently on Spiritual Life
Have something to say about this article? Leave your comment via Facebook below!
advertise with us
Example: "Gen 1:1" "John 3" "Moses" "trust"
Advanced Search
Listen to Your Favorite Pastors