Living Through the San Diego Wildfires
Tonilee Adamson, Daily Disciples Ministries
Tuesday, November 27, 2007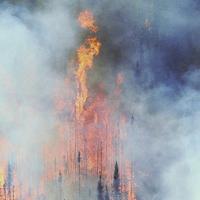 On Sunday morning, the Santa Ana winds were so strong we had difficulty packing up the car. Little did we know that Isaiah 43:2 was not only a promise but a prophecy that was about to be fulfilled that day in all of our lives including the Palomar Retreat Center. Heading down the mountain, we heard that the fires had begun. We were about to be evacuated from our homes because of the fires and some of us would literally be "walk[ing] through the fire" as Isaiah 43:2 clearly states. At one given time, there were eight fires destroying the County of San Diego. Because fire is no respecter of persons, no one knew whose house would be next and no one could predict the path the fires would take. But we did know that God cared and that God had warned us up on the mountain. His desire was for us to know that God was with us, that these fires did not surprise Him, and He did not want us to fear. God speaks to us to comfort us and to bring peace regardless of the circumstance.
When I got home on Sunday afternoon, the newscasters were already talking about evacuations. I asked the Lord if we would have to evacuate also. The impression that I got was to not unpack my retreat suitcase because I was going to need it. So, when my daughter told me at 10 pm that her school was cancelled the next day, I was not surprised. We also got the "Reverse 911" call Monday afternoon. I packed everything from photo albums of the kids (for my heart) to photos of the house (for the insurance company) just in case. When receiving promises from the Lord, I have learned the hard way not to jump to conclusions. God can put His Words in our mouths but we have no right to put our words in His. When we do, we get stumbled because we assume something that God did not say. Just because God gave us comfort with the Isaiah 43 passage did not mean that we did not have to evacuate and the verses did not mean that our homes would be spared. I just knew that the Lord did not want me to fear and that He would be with me because I am His. By the end of the fires, close to 2000 homes were consumed in a very short period of time.
The problem today is not that God is not speaking but that we are not listening. God wants us to know. He reveals His plans to His servants (Amos 3:7). That is the desire of His heart. The Lord does not want us to be caught off guard but aware and alert so He may continue to use us through those hard times. I would rather be warned first by the Lord than warned by the news. But, this means we need to be in a consistent relationship with Him. There are some questions we need to ask ourselves as the Bride of Christ:
1. How willing are we to enter into a real personal relationship with the Lord?
Communication is the key component of relationship. One person talks and other person listens. Then, the roles are reversed. As each person shares their words, they will determine the depth of the relationship. These rules also apply in having a relationship with God. You talk to the Lord (prayer) and the Lord talks to you (from His Word, the Bible). If you chose to communicate daily, your relationship with Him will be much closer than if you communicate once a week.
2. How willing are we to really listen to what God is saying to us in the passages we are reading for the day?
If you are like me, I tend to be better at telling God my own heart and my own desires than listening to His. When I am willing to hear God's Will louder than desiring God to hear my will, then God speaks clearly. After I have completely exhausted myself with my prayer requests, I am ready to hear His answers. My ears have to become larger than my mouth so He can get His Word into my heart to change my mind. That takes time. Take the time to listen to the Lord through Scriptures and through the quietness of your own heart. He will comfort you in a restful place.
Recently on Spiritual Life
Have something to say about this article? Leave your comment via Facebook below!
advertise with us
Example: "Gen 1:1" "John 3" "Moses" "trust"
Advanced Search
Listen to Your Favorite Pastors