Love And The Lonely: A Valentine for the Disconnected
Jim Robinson, Contributing Writer
Thursday, February 10, 2005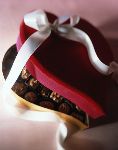 At times like Valentine's Day, though, I can't help feeling a sort of veiled sorrow. I wonder why God decided to give me my life back, while so many others seem lost… lost within themselves, within the walls of their own sense of unworthiness, their own hopelessness. Maybe it's because, as a counselor, I work with these people one on one, and stare into their eyes. And they look back into mine. And in these moments I am convicted, day after day. I can never forget. I know who they are. I know how they feel.
I wonder if Adam felt some indefinable ache that one night before he drifted off to sleep. I wonder if he dreamed of what God would do that night, taking a part of him to make another someone. And though it wouldn't take long for the man and woman to learn fear and shame and the kind of haunting loneliness that to some degree lurks within each of us even now, I wonder if…I wonder if, only for a little while, the three of them felt eternally, blissfully connected.
This desire for connection drives us all, really. It drives us either away from or toward our Heavenly Father. We seek fulfillment in people, places, substances, behaviors… we drink and drug, work and worry, worshiping wealth, seeking sanctuary from the nagging discomfort… and always it is more and more and more, but still we cannot fill the emptiness. And yet, some of us are able to turn and run to the Well, and finally slake our thirst. At least until we wander away again, as little children often do. Having tasted the living water, though, we're never the same again. We know.
It's risky, of course. Love will cost us our very lives. Even when I was hopeless and drunk, the idea of giving myself over to this most powerful of things—Love—felt in some ways more frightening than the living hell in which I lived. And so I stood just out of reach, my hands hovering near the face of God, so afraid to risk touching such unfathomable beauty, peace, hope. I recall a man grown old before his time, lost and slowly dying in his dark addictions. And I remember how dangerous it felt, this surrendering to Love…
And then. Then, just as I had almost decided to run away, to give up on the hope of love and resign myself to the vague loneliness I had felt all my life…just as fear nearly separated me from the endless possibilities of joining hearts with one very special person…
Christ came, finally, to forever put an end to our loneliness. Through Him and in Him, we have access to an intimacy that defies our emptiness, and casts off our chains.
On this day celebrating love, I pray each of us might discover Love—the kind of Love that does not judge or shame, but gently opens to us the arms that won't let go. I pray that every hopeless heart wandering through a broken world will turn for Home, finally seeing through our tears that no matter how many times we turn our backs on Jesus, He is always facing us. Succumbing to the ultimate connection, may each of us know this: When in helpless faith we surrender to Him our shattered souls, loneliness is a prison that cannot hold us.
I don't know what ever happened to Maggie Argo. She moved away at the end of the school year, and I never saw her again. And though I was to learn many kinds of loneliness along my journey back to Christ, I had at least on that one Valentine's Day come to understand that love is both fair and fleeting…a precious gift to be cherished rather than understood.
May the Love of Christ Jesus fill you, now and ever more. Amen.
Jim Robinson is a successful songwriter, musician, speaker, author, and recovery counselor. A graduate of Christ Center School of Counseling and Addiction Studies, Robinson is founder of ProdigalSong, a Christian ministry utilizing music, speaking, counseling and teaching to convey healing for the broken spirit. For information about his ministry, music, or his book, also called Prodigal Song, visit www.ProdigalSong.com or contact Jim via e-mail: prodigalsong@juno.com.
Recently on Spiritual Life
Have something to say about this article? Leave your comment via Facebook below!
advertise with us
Example: "Gen 1:1" "John 3" "Moses" "trust"
Advanced Search
Listen to Your Favorite Pastors