Marriage Under Fire: Why We Must Win This Battle
Dr. James Dobson
Monday, May 17, 2004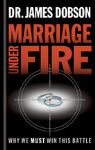 Why will gay marriage set the table for polygamy? Because there is no place to stop once that Rubicon has been crossed. Historically, the definition of marriage has rested on a foundation of tradition, legal precedent, theology and the overwhelming support of the people. After the introduction of marriage between homosexuals, however, it will be supported by nothing more substantial than the opinion of a single judge or by a black-robed panel of justices. After they have reached their dubious decisions, the family will consist of little more than someone's interpretation of "rights." Given that unstable legal climate, it is certain that some self-possessed judge, somewhere, will soon rule that three men or three women can marry. Or five men and two women. Or four and four. Who will be able to deny them that right? The guarantee is implied, we will be told, by the Constitution. Those who disagree will continue to be seen as hate-mongers and bigots. (Indeed, those charges are already being leveled against Christians who espouse biblical values!) How about group marriage, or marriage between cousins, or marriage between daddies and little girls? How about marriage between a man and his donkey? Anything allegedly linked to "civil rights" will be doable. The legal underpinnings for marriage will have been destroyed.
The third reason marriage between homosexuals will destroy traditional marriage is that this is the ultimate goal of activists, and they will not stop until they achieve it. The history of the gay and lesbian movement has been that its adherents quickly move the goal line as soon as the previous one has been breached, revealing even more shocking and outrageous objectives. In the present instance, homosexual activists, heady with power and exhilaration, feel the political climate is right to tell us what they have wanted all along. This is the real deal: Most gays and lesbians do not want to marry each other. That would entangle them in all sorts of legal constraints. Who needs a lifetime commitment to one person? The intention here is to create an entirely different legal structure.
With marriage as we know it gone, everyone would enjoy all the legal benefits of marriage (custody rights, tax-free inheritance, joint ownership of property, health care and spousal citizenship, and much more) without limiting the number of partners or their gender. Nor would "couples" be bound to each other in the eyes of the law. This is clearly where the movement is headed. If you doubt that this is the motive, read what is in the literature today. Activists have created a new word to replace the outmoded terms infidelity, adultery, cheating, and promiscuity. The new concept is polyamorous. It means the same thing (literally "many loves") but with the agreement of the primary sexual partner. Why not? He or she is probably polyamorous, too.
Liberal columnist Michael Kinsley wrote a July 2003 op-ed piece in The Washington Post titled, "Abolish Marriage: Let's Really Get the Government Out Of Our Bedrooms."42 In this revealing editorial, Kinsley writes, "[The] solution is to end the institution of marriage, or rather, the solution is to end the institution of government monopoly on marriage. And yes, if three people want to get married, or one person wants to marry herself and someone else wants to conduct a ceremony and declare them married, let 'em. If you and your government aren't implicated, what do you care? If marriage were an entirely private affair, all the disputes over gay marriages would become irrelevant." Otherwise, the author warns, "it's going to get ugly."43
Judith Levine, writing in The Village Voice, offered support for these ideas in an article titled "Stop the Wedding: Why Gay Marriage Isn't Radical Enough."44 She wrote, "Because American marriage is inextricable from Christianity, it admits participants as Noah let animals on the ark. But it doesn't have to be that way. In 1972 the National Coalition of Gay Organizations demanded the 'repeal of all legislative provisions that restrict the sex or number of persons entering into a marriage unit; and the extension of legal benefits to all persons who cohabit regardless of sex or numbers.' Group marriage could comprise any combination of genders."45
Recently on Spiritual Life
Have something to say about this article? Leave your comment via Facebook below!
advertise with us
Example: "Gen 1:1" "John 3" "Moses" "trust"
Advanced Search
Listen to Your Favorite Pastors