Marriage Under Fire: Why We Must Win This Battle
Dr. James Dobson
Monday, May 17, 2004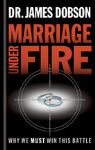 Stanley Kurtz, a research fellow at the Hoover Institution, summed up the situation in a recent Weekly Standard article. He noted that if gay marriage is legalized, "marriage will be transformed into a variety of relationship contracts, linking two, three or more individuals (however weakly or temporarily) in every conceivable combination of male and female . . . the bottom of this slope is visible from where we now stand."46
We must all become soberly aware of a deeply disturbing reality: The homosexual agenda is not marriage for gays. It is marriage for no one. And despite what you read or see in the media, it is definitely not monogamous.
What will happen sociologically if marriage becomes anything or everything or nothing? The short answer is that the State will lose its compelling interest in marital relationships altogether. After marriage has been redefined, divorces will be obtained instantly, will not involve a court, and will take on the status of a driver's license or a hunting permit. With the family out of the way, all rights and privileges of marriage will accrue to gay and lesbian partners without the legal entanglements and commitments heretofore associated with it.
These are just a few reasons why homosexual marriage is truly revolutionary. Legalizing it will change everything, especially for the institution of the family.

2. Children will suffer most.
The implications for children in a world of decaying families are profound. Because homosexuals are rarely monogamous, often having as many as three hundred47 or more partners in a lifetime—some studies say it is typically more than one thousand48—children in those polyamorous situations are caught in a perpetual coming and going. It is devastating to kids, who by their nature are enormously conservative creatures. They like things to stay just the way they are, and they hate change. Some have been known to eat the same brand of peanut butter throughout childhood.
More than ten thousand studies have concluded that kids do best when they are raised by loving and committed mothers and fathers.49 They are less likely to be on illegal drugs, less likely to be retained in a grade, less likely to drop out of school, less likely to commit suicide, less likely to be in poverty, less likely to become juvenile delinquents, and for the girls, less likely to become teen mothers. They are healthier both emotionally and physically, even thirty years later, than those not so blessed by traditional parents.50
Social scientists have been surprisingly consistent in warning about the impact of fractured families. If present trends continue, the majority of children will have several "moms" and "dads," perhaps six or eight "grandparents," and dozens of half-siblings. It will be a world where little boys and girls are shuffled from pillar to post in an ever-changing pattern of living arrangements; where huge numbers of them will be raised in foster-care homes or living on the street, as millions do in countries all over the world today. Imagine an environment where nothing is stable and where people think primarily about themselves and their own self-preservation. And have you considered what will happen when homosexuals with children become divorced? Instead of two moms and two dads, they will have to contend with four moms or four dads. How would you like to be a new husband a generation later who instantly had four or six or eight mother-in-laws.
We must also consider a world of the future where immorality is even more rampant than today, where both unbridled homosexual and heterosexual liaisons are the norm. The apostle Paul described such a society in the book of Romans, referring apparently to ancient Rome. He wrote, "They have become filled with every kind of wickedness, evil, greed and depravity. They are full of envy, murder, strife, deceit and malice. They are gossips, slanderers, God-haters, insolent, arrogant and boastful; they invent ways of doing evil; they disobey their parents; they are senseless, faithless, heartless, ruthless" (Romans 1:29–31).
Recently on Spiritual Life
Have something to say about this article? Leave your comment via Facebook below!
advertise with us
Example: "Gen 1:1" "John 3" "Moses" "trust"
Advanced Search
Listen to Your Favorite Pastors