Max Lucado Talks About Our "Next Door Savior"
Janet Chismar, Senior Editor, News & Culture
Tuesday, September 09, 2003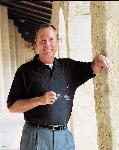 Crosswalk: Do you keep the seeker in mind when you are writing?
Lucado: I really do. The theme of my preaching and the philosophy of our church is that there is a broken heart in every pew - whether a seeker or a saved person. Really, I try to speak to person who is struggling - put fiber in the faith of the person who has faith - give reason to the person who has no faith.
Crosswalk: There will be a satellite broadcast on Oct. 5. Can you tell us a little about that?
Lucado: I think it is going to be really neat. It's a simulcast and what we are going to do is isolate out of the book about six different sections - both messages are five to seven minutes each. Interspersed in between those messages, we're going to have special music. Right now, Third Day has committed and there are invitations out to two or three other groups. I think it is going to be a very special hour and 15 minutes.
Crosswalk: I loved in the book how you compared President Bush walking the streets of your hometown to Jesus walking the earth. What was it like to meet the President?
Lucado: Oh, it was neat. And that story was really fun, because when I told him where I was from, his expression really did change. It provided a neat image of what it's like to know that God walked our streets.
Crosswalk: For my last question - you do a wonderful job of painting word pictures ... putting theological concepts into everyday language. Besides being a gift from God, do you work at your craft? Is it hard for you to write?
Lucado:  I love to work with words, but we work at it pretty hard - the "we" being me and my two editors. We do a lot of rewriting: taking it another layer, another layer, another layer. Going another round with it, over and over. That, I found, really seems to hone the product. It's kind of like a good polishing. So if there is anything we really try to do, we try to rewrite until we are sick of it!

Read the first chapter of Next Door Savior here. We guarantee you won't be sick of it!
Read an article about the companion CD here and find out who ranks among Max's favorite Christian artists.
Visit Max Lucado's website  here.
Recently on Spiritual Life
Have something to say about this article? Leave your comment via Facebook below!
advertise with us
Example: "Gen 1:1" "John 3" "Moses" "trust"
Advanced Search
Listen to Your Favorite Pastors