Must Eternity Be Lost?
Diana L. Severance, Contributing Writer, Faith in God and Generals
Monday, February 03, 2003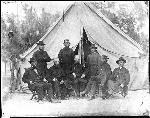 Organizing the Chaplaincy - At their great victory at First Manassas, many in the South believed the war was virtually over. They expected England and France to soon recognize the Confederacy, clearly establishing Southern independence. During this period, profanity, gambling, drunkenness, and other vices were rampant throughout the Army of Northern Virginia. There were few chaplains to minister to the spiritual needs of the soldiers.

On October 26, 1862, hospital steward John Samuel wrote in his diary: "I have not heard a sermon for a long time. Preaching is so seldom and irregular in camp that I greatly fear all of us will lose all the taste we ever had for serious solemn discourse. The truth is very obvious that we are all becoming depraved. The character of our fallen nature is such that the life we are leading meets no rebuffs as we go down, down in the mire of sin and folly. And there is scarcely a soldier in our ranks who will not admit [that] of all classes of men a soldier in this struggle should strive harder to gain the aid and approbation of Divine control."
The Confederate defeats at Roanoke Island and Forts Henry and Donelson began to work a change in the Southern people. They became more humble and began to increasingly realize their need to depend upon God for their success. In the summer and fall of 1872, the Army of Northern Virginia faced intense fighting around Richmond, at Second Manassas, and at Sharpsburg.

Seeing the dead bodies of their comrades on the field deeply affected many of the soldiers, and they began to more seriously consider the uncertainty of their own lives. As the army went into its winter camp, there was more time for reflection, and many of the soldiers underwent a spiritual awakening.
General Jackson was most concerned about the spiritual condition of the men in his Second Corps, and he made plans to organize the chaplains in the army. Jackson believed the chaplains should be as systematically organized as any of the other departments of the army. He wrote his pastor, Rev. White of Lexington, some of his thoughts on the matter:
Each denomination of the Christian Churches throughout the South should send into the army some of its most prominent ministers who are distinguished for their piety, talents, and zeal; and such ministers should labor to produce concert of action among chaplains and Christians in the army. These ministers should give special attention to preaching to regiments which are without chaplains . ... Denominational distinctions should be kept out of view and not touched on; and as a general rule, I do not think that a chaplain, who would preach denominational sermons, should be in the army. His congregation is his regiment, and it is composed of persons of various denominations. I would like to see no question asked in the army as to what denomination a chaplain belongs, but let the question be, Does he preach the Gospel?
Jackson believed a lack of spirituality and morality was hampering the success of the Confederate army and nation. If he could lead a Christian, converted army, then victory seemed much more assured for the struggling Confederate nation.

An organized chaplaincy would be an important step to that end. Jackson asked Beverly Tucker Lacy, pastor of the Presbyterian church in Fredericksburg, Virginia, if he would join the Second Corps and organize the chaplains in the army. Jackson personally offered to pay two hundred dollars toward Lacy's salary, as well as three hundred dollars for tracts for the soldiers.


Recently on Spiritual Life
Have something to say about this article? Leave your comment via Facebook below!
advertise with us
Example: "Gen 1:1" "John 3" "Moses" "trust"
Advanced Search
Listen to Your Favorite Pastors