Never Read a Bible Verse
Gregory Koukl, Founder and President, Stand to Reason
Tuesday, June 26, 2012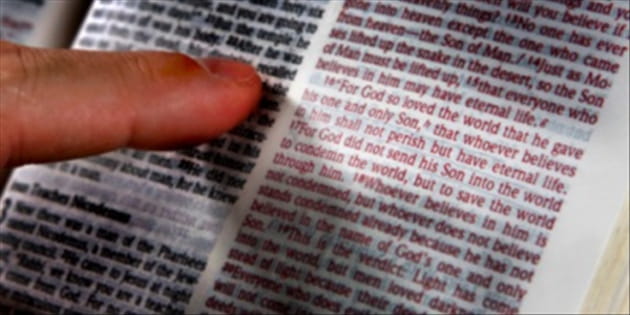 Note that this rebuttal turns on the ability to replace "apart from Him" with the phrase "with the exception of Jesus." Allegedly they're synonymous. Okay, let's try the replacement and see what happens. The verse then looks like this: "With the exception of Jesus, nothing came into being that has come into being."
If your brow is furrowed trying to figure this out, I'm not surprised. The reconstructed phrase is nearly nonsense. Strictly speaking, it means that Jesus is the only created thing that exists. Read it again and see for yourself. Obviously, the phrase "apart from Jesus" can't mean "with the exception of Jesus." These phrases are not synonymous.
"Apart from Him" means something entirely different. It means "apart from His agency." It's the same as saying, "Apart from me you'll never get to Disneyland. I've got the car." Apart from Jesus' agency nothing came into being that has come into being. Why? Because Jesus is the Creator. He is God. That makes perfect sense in the context.
Let me give you some other examples.
Having a "Peace" about It
Colossians 3:15 is a text that is constantly misunderstood by well-meaning Christians. Paul writes, "And let the peace of Christ rule in your hearts." Some have accurately pointed out that the Greek word for "rule" means to act as arbiter or judge. They see this verse as a tool for knowing God's will for our lives.
The conventional thinking goes something like this. When confronted with a decision, pray. If you feel a "peace" in your heart, go ahead. If you don't feel peace, don't proceed. This internal sense of peace acts like a judge helping you make decisions according to the will of God. A paraphrase might be: "And let feelings of peacefulness in your heart be the judge about God's individual will for your life." Is this what Paul means?
This is a classic example of how knowledge of the Greek can be dangerous if context is not taken into consideration. The word "peace" actually has two different meanings. It could mean a sense of inner harmony and emotional equanimity. Paul seems to have this definition in mind in Philippians 4:7: "And the peace of God, which surpasses all comprehension, shall guard your hearts and your minds in Christ Jesus." This is the subjective sense of peace.
The word also has an objective sense. It sometimes means lack of conflict between two parties formerly at war with each other. This definition of peace is what Paul intends in Romans 5:1: "Therefore having been justified by faith, we have peace with God through our Lord Jesus Christ." (Note the distinction between the peace of God and peace with God in these two verses.)
What sense of peace did Paul have in mind when writing to the Colossians? The Greek gives us no indication because the same word is used in all three cases. Once again, context is king. The specific meaning can only be known from the surrounding material.
In verse 11, Paul says that in the Body of Christ there are no divisions between Greek and Jew, slave and free, etc. He appeals for unity in the body characterized by forgiveness, humility, and gentleness. He then adds that harmony ("peace") should be the rule that guides our relationships.
Paul has the objective sense of peace in mind here lack of conflict between Christians not a subjective feeling of peace in an individual Christian's heart.
This becomes obvious when we join the suggested paraphrases with the context:
Put on a heart of compassion, kindness, humility, gentleness and patience; bearing with one another, and forgiving each other, whoever has a complaint against anyone; just as the Lord forgave you, so also should you. And beyond all these things put on love, which is the perfect bond of unity. And let feelings of peacefulness in your heart be the judge about God's individual will for your life, to which indeed you were called in one body; and be thankful.
Recently on Spiritual Life
Have something to say about this article? Leave your comment via Facebook below!
advertise with us
Example: "Gen 1:1" "John 3" "Moses" "trust"
Advanced Search
Listen to Your Favorite Pastors