Pathway to Purpose: Is Your Life Out of Sync?
Katie Brazelton, Author
Monday, May 23, 2011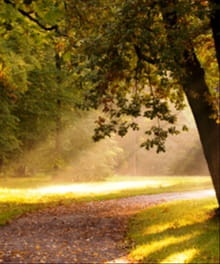 Through my own faltering steps and my interaction with thousands of other women, I have come to realize that countless good, Christian women barely function because they feel alone, disillusioned, or trapped by vague dissatisfaction. They feel that they have no critically important reason to exist, and they are guilt-ridden about their dark secret of borderline despair.
The fact is, most women have felt this void at one time or another, even if just mildly. At some transition point in life, they have experienced a let-down feeling. This unexplainable melancholy may manifest itself in many ways - from the baby blues to a midlife crisis. It may be prompted by a job loss, a home relocation, or divorce. It may also occur after reaching a cherished goal such as completing a race, building a house, graduating from school, planning a wedding, or retiring from a career.
If you find yourself in this perplexing place, you may feel bored and confused. Perhaps you hunger for something challenging to which to give your life. Perhaps you began adulthood with great ideas of how you were going to make a difference in the world but now find yourself struggling to make sense of feelings of emptiness, frustration, or futility. Perhaps you can't turn off the unsettling questions that scream out in the silence of your nights:
Dear God, where do I fit? How can I make a difference? Where is the place you have for me?
Does anyone really need me? Does my existence even matter in this world?
Why do I feel like such a failure as a Christian?
Why don't I enjoy my church ministry, my family responsibilities, or my job anymore? Why do I feel so unsatisfied?
Why am I not happy? How did I pile up so many regrets?
Is this really all there is to life? Is this what God wants my life to look like?
When did my dreams and passions get relegated to a backburner?
If I heard God's call, would I have the time or emotional strength to pursue it?
If you find yourself facing questions like these and long for something better, be assured that there is hope. God will reveal your purpose, and your heart will sing over what he has in store for you! He wants you to be able to say, "I'm in my element. I'm in sync. This is what my life is supposed to be about. I was born for this. What a blast!"
Or - the clincher in the case of a career - "I can't believe I get paid to do this!
Katie Brazelton is the founder of Pathway to Purpose™ Ministry and is a Licensed Minister and Director of Women's Bible Studies at Saddleback Church. Katie has worked with women for many years, helping them discover their church ministry and life purposes. She coaches women who are searching for meaning in life as a Certified Christian LifePlanning™ Consultant with an international client base.
This article is an excerpt from Pathway to Purpose for Women by Katie Brazelton, © 2005. Used by permission from Zondervan Publishers. You can purchase a copy of Pathway to Purpose for Women at Christianbook.com.
Recently on Spiritual Life
Have something to say about this article? Leave your comment via Facebook below!
advertise with us
Example: "Gen 1:1" "John 3" "Moses" "trust"
Advanced Search
Listen to Your Favorite Pastors