People of Faith Fight to Preserve Marriage
Robert Wayne, Crosswalk.com Correspondent
Monday, April 26, 2004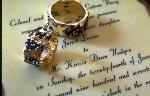 Shannon Royce wants marriage to be more than a union between a man and a woman. She also wants it to be a wedding between the U.S. government and God's will for the world.
Royce, executive director of the Marriage Amendment Project, is pushing for a constitutional amendment that would leave no wiggle room for same-sex marriage.
"People need to pick up a phone and call their Representatives and Senators and let them know they support the federal marriage amendment that is there now,'' said Royce, who is leading the charge to create a national mandate that marriage unites members of the opposite sex only.
Working against that rally is a Massachusetts directive scheduled to take effect on May 17 that will issue legal marriage licenses to same-sex couples.
"I don't think any of us can foresee the devastating effects of that. It's so beyond our imagination,'' said Royce, who senses that the public won't begin to blister about same-sex marriage until the Massachusetts law takes effect.
"You'll see even more of a spontaneous response when people see the front pages of their newspapers and see that Massachusetts is giving out legal licenses,'' she said, explaining that so far most of the hand-wringing has been over unlawful gay "marriages'' in San Francisco and New York.
Royce doesn't want to wait until May 17 to put out the flame of homosexual marriage, which is why she is pressing for the amendment that President Bush has said he supports.
The amendment resolution currently has 117 co-sponsors in the House (H.J. Res 56) and 13 in the Senate (S.J. Res 30), said Royce, who thinks government plays a role in marriage. Just not "the'' role.
"Marriage is an institution that predates government,'' she said. "Government was created for the benefit of the family, but marriage was before written history, so government does not create marriage, but simply affirms it.''
The current U.S. laws regarding marriage are good; Royce just doesn't want to see them erased in one fell Massachusetts swoop.
She explained that once Massachusetts acts, a same-sex couple from another state could go there, get married, then return to their home state demanding to have their marriage recognized in every way.
"And when they're denied, they sue and claim it's a violation of their equal protection rights,'' she said, adding that failure to pass a constitutional amendment would have the effect of playing dominoes.
Recently on Spiritual Life
Have something to say about this article? Leave your comment via Facebook below!
advertise with us
Example: "Gen 1:1" "John 3" "Moses" "trust"
Advanced Search
Listen to Your Favorite Pastors