People of Faith: Harriet Tubman
Rebecca Price Janney
Friday, February 21, 2003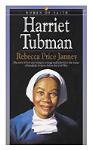 At the next stop along the Underground Railroad, Harriet received food and more information for her journey, then continued on her way, her face resolutely set toward the North. She continued along the river, walking at night, staying off the main roads where she was more likely to be discovered. When she could follow the water no longer, Harriet kept on a northeasterly course toward Camden, Delaware, where Ezekiel Hunn, a farmer who was active in the Underground Railroad, provided food and information about her next stops. She had made it past one state line—only one remained.
A Partner

From Camden, Harriet journeyed to Middletown, where Ezekiel's brother, John, received her into his home, which was also a station. She ventured next to New Castle, then on to Wilmington. That is where she first came into contact with an extraordinary man who would become her fearless partner in rescuing slaves, as well as her devoted and lifelong friend.
Born in Philadelphia in 1789, Thomas Garrett was a Quaker shoe salesman who harbored strong anti-slavery convictions. When he moved to nearby Wilmington, Delaware, in 1822, he started hiding runaways in the rooms above his store. During the next forty years, Garrett assisted between twenty-five hundred and three thousand slaves, giving them food, shelter, money, and of course, plenty of shoes. At one point toward the end of his "career," the authorities fined Garrett so heavily for assisting slave refugees that he lost everything. At the age of sixty, he had to start all over again. Once he earned back some of his earlier prosperity, however, he was arrested and fined again for continuing to assist runaways. The incredulous judge at his trial told him, "Garrett, let this be a lesson to you, not to interfere hereafter with the cause of justice by helping runaway negroes."
Garrett was not persuaded. He responded in true Quaker form, "Judge, thee hasn't left me a dollar, but I wish to say to thee, and to all in this court room, that if anyone knows of a fugitive who wants a shelter, and a friend, send him to Thomas Garrett, and he will befriend him!"2 It was said of him that "not even Luther before the Council at Worms was grander than this brave old man in his unswerving adherence to principle."3
During the course of her courageous escape, Harriet had been rowed up the Choptank and hidden in the attic of a Quaker homestead. She spent several days in the haystack of a German immigrant and in a free black family's storage hole for potatoes to elude any pursuers. Now it was time for one more wagon ride north. From there she walked across the Pennsylvania line. Her first impression of freedom both intoxicated and awed Harriet. She said, "I looked at my hands to see if I was the same person, now that I was free. There was such a glory over everything. The sun came up like gold through the trees and over the fields, and I felt like I was in Heaven."4
Although this was the end of Harriet's journey to liberty, she was just at the beginning of many decisions and difficulties. Where would she live? What kind of job would she find? Would she make new friends? Whom could she trust? Looking back in her later years, she described how she felt at that time:
I knew of a man who was sent to the State Prison for twenty-five years. All these years he was always thinking of his home, and counting by years, months, and days, the time till he should be free, and see his family and friends once more. The years roll on, the time of imprisonment is over, the man is free. He leaves the prison gates, he makes his way to his old home, but his old home is not there. The house in which he had dwelt in his childhood had been torn down, and a new one had been put up in its place; his family were gone, their very name was forgotten, there was no one to take him by the hand to welcome him back to life.
Recently on Spiritual Life
Have something to say about this article? Leave your comment via Facebook below!
advertise with us
Example: "Gen 1:1" "John 3" "Moses" "trust"
Advanced Search
Listen to Your Favorite Pastors