People of Faith: Rosey Grier
Rob Oller, Crosswalk.com Contributing Writer
Thursday, January 22, 2004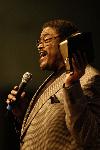 Rosey Grier has the uncanny ability to go in 10 different directions at once and yet somehow still keep moving closer to Jesus. There is Rosey the ordained minister, Rosey the author, Rosey the singer and songwriter, Rosey the actor, Rosey the humanitarian, Rosey the Republican, Rosey the visionary and Rosey the former NFL All-Pro defensive linemen with the New York Giants and Los Angeles Rams.
There's even Rosey the trivia question. Who tackled and subdued Sirhan Sirhan after the assassin gunned down Senator Robert Kennedy in 1968? Why, Rosey Grier, of course.
During the course of a life that began in 1932 in Cuthbert, Ga., the 71-year-old Grier has popped up in places where one might not expect to find a 300-pound football player. In 1973 he published, Rosey Grier's Needlepoint for Men. And long before roly-poly Ruben Studdard became an American idol, an even more robust Grier was singing and acting on television, appearing in his own variety program.
Grier even managed to become a participant in one of the biggest media feeding frenzies in U.S. history when, as a pastor, he visited O.J. Simpson in jail while the former star running back awaited trial for the murder of his wife and her friend.
"Sports Illustrated'' once described Grier this way: "Not even Forrest Gump was as accidental a tourist as Rosey Grier has been.''
Through all the celebrity twists and turns, however, Grier has not allowed himself to stray from the narrow path that has come to define his existence. He is first and foremost a follower of Christ, and whether he's singing, sewing or soliloquizing, Grier remains focused on his true purpose - bringing God into everything he does.
Grier's latest association is with the Lead Like Jesus Movement, a ministry aimed at teaching people how to model the leadership teachings and techniques of Jesus. Grier attends the LLJ conventions and still finds a way to hang out with celebrities, although not of the secular variety. Instead of rubbing elbows with superstar athletes and Hollywood actors, Grier hangs with such stars of the Christian faith as Bill Hybels, Rick Warren and LLJ co-founder Ken Blanchard.
Mostly, Grier stays busy running his Los Angeles-based urban youth ministries. He is co-founder (along with Estean Lenyoun) of American Neighborhood Enterprises (ANE) and is Chairman of the Board of Impact Urban America, an offshoot of ANE. These two outreaches combine real estate, development and construction companies to provide job training, employment and affordable housing for the disadvantaged, underprivileged and at-risk persons in the inner cities of the nation. He also is founder and COB of "Rosey Grier's Are You Committed,'' a program which enhances spiritual awareness and self-esteem in underprivileged urban youth.
So he stays busy.
And he wouldn't want it any other way.
There was a time when Grier busied himself with more worldly efforts, but eventually the taste of secular success turned sour.
Recently on Spiritual Life
Have something to say about this article? Leave your comment via Facebook below!
advertise with us
Example: "Gen 1:1" "John 3" "Moses" "trust"
Advanced Search
Listen to Your Favorite Pastors