Powering Up
Jack Graham, Author
Wednesday, June 17, 2009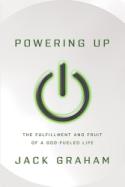 They look at their sorry circumstances and their below-potential behavior and want to know that Jesus really can change their hearts, their habits, their desires, their patterns, and their pain. They want to know that there is enough power for them to overcome the work of the enemy in their personal lives and the forces of evil flowing through the world at large, that there is enough power for them to prevail. To their concerns—and perhaps to yours as well—I say, there is! There is plenty of power awaiting you, life-changing, habit-altering, pain-alleviating power. It's what powering up is all about, as even Jesus' earliest followers could attest.
Common Men, an Uncommon Opportunity
Two thousand years ago a large group of believers led by twelve men qualified as the least likely people to change the world. They were known as "disciples"—handpicked followers who would co-labor with Christ. These were rural, ordinary folk. Common men, you might say. They were sometimes rude and sometimes crude and sometimes full of rage. One of them, John, was known as a "son of thunder" and had a bit of an agitated temperament to get over before he'd experience life in all its fullness. Another, Peter, often said the wrong thing at the wrong time. Occasionally he'd say the right thing, but it was still at the wrong time.
When Jesus was nailed to the cross, these once-devoted followers caved in to their fears about being associated with a dead king and chose to flee their Master's presence. They ran and hid in the shadows and denied having anything to do with the Messiah. Even after Jesus was raised from the dead, the disciples wondered about his power. Sure, they said they believed in the risen Christ, but relying on a crucified leader's power to continue on with the mission they had been given? Well, that was a different proposition altogether.
Jesus' first followers were uneducated, untrained, and unfit for the massive opportunity they would be ultimately invited to seize. "I want you to go into all the world and make disciples," Jesus would say. And incredibly they said yes. Armed with nothing but that twelve-word directive, the small band of brothers eyed their upside-down world and engaged wholeheartedly in the task of setting it right.
Despite having no financial resources, no elaborate buildings, no satellite technology, no cameras, no media to broadcast their movement, and no ability to produce PR flyers advertising their events, the disciples thrived in their mission for one reason and one reason alone: they had something that was better than all of the bells and whistles put together—the transforming power of God in their lives.
Because they looked to God's power for their strength, they beat the odds.
Because they looked to God's power for their strength, they stood firm against opposition.
Because they looked to God's power for their strength, they persisted amid persecution.
Because they looked to God's power for their strength, they gained some serious kingdom ground, living life precisely as it was meant to be lived.
I think there's a lesson here for you and me both.
The God-Sized Gift
In the first chapter of the book of Acts we read that Jesus gathered his disciples around him on the Mount of Olives, which stands even today, just due east of the city of Jerusalem. Their heads were probably still spinning as they considered the roller-coaster ride of experiences they'd known during the three years they had followed Jesus. They had felt the joys of absorbing his firsthand ministry, the sorrow of witnessing the horrible ordeal of the cross, and the elation of knowing he was now resurrected.
Their Lord had chosen them, taught them, loved them, and prepared them and now was commissioning them just before he ascended into heaven. The disciples barely had time to grieve their Master's impending departure, though, before they were given a promise—a promise that although it was true that Christ was leaving, "another" was coming to take his place (John 14:16). "[The apostle] John baptized with water," Jesus would say on that mount just forty days after his miraculous resurrection, "but you will be baptized with the Holy Spirit not many days from now" (Acts 1:5). And what a baptism it was! The first verses of Acts 2 describe the fulfillment of that promise this way:
Recently on Spiritual Life
Have something to say about this article? Leave your comment via Facebook below!
advertise with us
Example: "Gen 1:1" "John 3" "Moses" "trust"
Advanced Search
Listen to Your Favorite Pastors